One Chart That Shows How Petrified Everyone Is Over China
The worry has gone parabolic.
Investor concern over China has reached fever pitch.
The world's second-largest economy has become a scapegoat for the August bloodbath in global markets, which came hot on the heels of the shock devaluation of the yuan.
Société Générale's global asset allocation team, led by Alain Bokobza, used its newsflow indicator—which tracks references to major themes in the press—to get a handle on just how high this wall of worry has been built.
As of Sept. 7, its metric showed that media coverage of a potential hard landing in China had gone parabolic, spiking to a record high: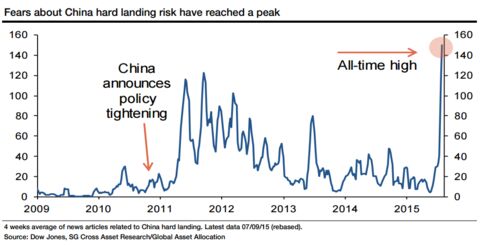 The analysts outline two possible ways one could interpret the chart. Either China's growth prospects have experienced a material and swift reduction lately and downward revisions to economic consensus views are warranted. Or the plethora of articles is itself the driving force behind fears over China. By intimating that a Chinese collapse was in the offing, the press has contributed to the decline in risk appetite.
SocGen is taking door No. 2.
"[W]e would indeed be tempted to take a contrarian view," wrote the strategists. "If our economic scenario turns out to be right (subdued tightening in the US but expansionary policy in China, Japan and the eurozone), fears about a Chinese hard landing should be at a peak and related assets probably close to a bottom."
Before it's here, it's on the Bloomberg Terminal.
LEARN MORE