Default Spike in Student Debt Driven by Unconventional Borrowers
Attendees from for-profit, two-year programs struggle to repay

Two-thirds of default surge is from shifting student traits
The doubling in U.S. federal student-loan default rates from 2000 to 2011 may have had a lot to do with who attended college and where they studied.
People who poured into for-profit and two-year colleges during the Great Recession made up a disproportionate share of borrowers in repayment, according to a study released Thursday by the Brookings Institution in Washington. The students, many of whom turned to non-traditional schools as their job prospects weakened, either finished quickly or failed to graduate, then were supposed to begin repaying federal loans.
They were also far more likely to fall behind: About 21 percent of non-traditional borrowers defaulted within two years of entering repayment in 2011, compared with just 8 percent of undergraduate borrowers from four-year, non-profit universities.
The paper demonstrates that though defaults surged in the wake of the recession, traditional four-year graduates fared comparatively well and non-traditional students bore the brunt of the crisis. The findings come at a time when for-profit institutions in particular already face increased scrutiny from the Education Department and Congress and state attorneys general for their recruitment practices and student borrowing.
Different Borrowers
Shifting borrower characteristics such as school type, background and job market outcome explain about two-thirds of the increase in the three-year default rate between 2000 and 2011, the study shows.
"Non-traditional borrowers were drawn from lower income families, attended institutions with relatively weak education outcomes and experienced poor labor market outcomes after leaving school," according to the paper by Adam Looney, a U.S. Treasury Department tax official, and Constantine Yannelis, a Stanford University graduate student. For more traditional borrowers, "their higher earnings, low rates of unemployment, and greater family resources appear to have enabled them to avoid adverse loan outcomes even during times of hardship."
Almost $1.2 trillion in federal student loans are outstanding, an amount that has more than doubled since 2007, according to the Education Department. The researchers tapped a new dataset that combines administrative records on student loan burdens with earnings information from tax records to examine in detail the role that institutions and other factors play in default -- when borrowers are more than 270 days late on payments.
Changing Schools
They found that a change in the type of school students attend is one key factor behind the surge. In 2000, of the 25 schools whose students owed the most aggregate federal debt, only one was a for-profit institution. By 2014, 13 for-profits made the list as enrollment and borrowing climbed.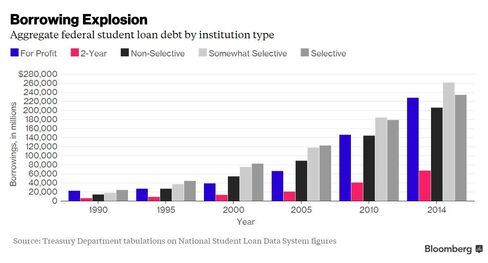 Repayment Ability
While student loan use is also climbing among traditional students -- in fact, they borrow more -- non-traditional students differ sharply in their ability to repay and have lower graduation rates. For borrowers in their second year of repayment, for-profit students' unemployment rates were about three times as high as those from selective schools in the 2011 cohort, the report shows. Non-traditional students also came from poorer neighborhoods, were less likely to have parental support and were older.
Amid those conditions, federal student loan holders who attended for-profit and two-year programs -- often found at community colleges -- made up about half of borrowers entering repayment in 2011, but about 70 percent of those who had defaulted within two years, according to the study.
Traditional borrowers, by contrast, had low unemployment levels even during recessions and relatively high earnings, and were more likely to come from high-income families.
The elevated default rates may fade, because fewer students are borrowing to enroll in for-profit and two-year institutions. From 2010 to 2014, the number of new borrowers at for-profit schools fell by 44 percent and by 19 percent at two-year institutions, the study shows.
Before it's here, it's on the Bloomberg Terminal.
LEARN MORE