BOE Says Global Turmoil Hasn't Shaken Its Economic Outlook
BOE: premature to draw inferences from this month's events

Ian McCafferty maintains call for increase in 8-1 vote split
Bank of England policy makers said the U.K. economic outlook remains healthy and market turmoil related to China's slowdown hasn't shaken their view that the time for a rate increase is approaching.
At their September meeting, the nine-member Monetary Policy Committee said it's too early to draw clear conclusions about developments overseas, a sign they remain focused on withdrawing emergency stimulus that's been in place since 2009. While the panel voted 8-1 to keep the key interest rate at 0.5 percent, with only Ian McCafferty dissenting, there were still some members who saw potential upside inflation risks.
The MPC's view echoes Governor Mark Carney's comments last month, when he said officials could look past events in China, where growth is cooling and a currency devaluation has rippled through global markets. With economists forecasting a BOE rate increase in the first quarter of next year, Carney has said the decision will come into "sharper" focus at the start of 2016.
"Although the downside risks emanating from overseas had risen, it would be premature to draw strong inferences from this month's events for the likely path of activity" in the U.K., the minutes said. External headwinds must be "weighed against the prospects for a continued healthy domestic expansion.," the meeting record showed.
The BOE also stuck to its view that inflation will start to pick up around the turn of the year, though it noted that a drop in oil prices had raised questions about the near-term outlook. It also said there's considerable uncertainty about how the pound's strength will feed through to U.K. prices.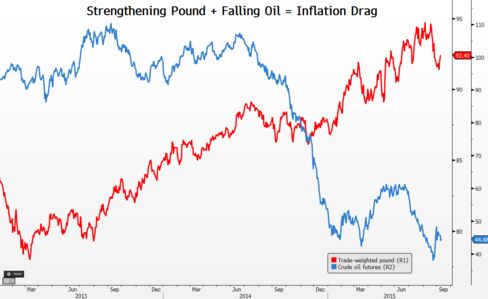 Inflation was at 0.1 percent in July, far below the BOE's 2 percent goal. The minutes showed that some of the eight members who voted to keep rates unchanged saw "continued upside risks to inflation relative to the target," repeating a view expressed at last month's policy decision.
Britain's currency rose after the minutes were released, climbing 0.3 percent to 72.71 pence per euro at 13:25 p.m. London time and increasing 0.2 percent to $1.5394.
"Global developments do not as yet appear sufficient to alter materially the central outlook described" in the August Inflation Report, the MPC said, according to the minutes. "But the greater downside risks to the global environment merit close monitoring for any impact on domestic economic activity."
The MPC's deliberations come amid signs that growth may be starting to lose momentum after 10 consecutive quarters of expansion. Recent evidence includes disappointing data on manufacturing and retail sales. Services, the main driver of the recovery, grew the least since 2013 in August, and a report on Wednesday showed goods exports plunged the most in nine years in July.
Sanguine Tone
"You might have expected them to express a little bit more caution, but overall it echoes Governor Carney's quite sanguine tone," said Liz Martins, an economist at HSBC Holding Plc in London. "There's some weakness coming out of emerging markets that everybody will be keeping an eye on, but we haven't changed our view on U.K. domestic demand or rates."
Martins predicts the BOE will increase the key rate in February 2016.
McCafferty maintained his dissent for a second month, arguing that building domestic costs pressures meant tighter policy was warranted now.
"This member believed that an earlier start to policy normalization would facilitate a more gradual path for policy tightening," the minutes showed.
Before it's here, it's on the Bloomberg Terminal.
LEARN MORE