Widodo Announces Indonesia Stimulus Plan Short on Specifics
President promises to revise 89 regulations by end of October

Industrial competitiveness and business certainty highlighted
Indonesian President Joko Widodo promised to adjust almost 100 rules to boost industrial competitiveness and improve business certainty as he announced an economic stimulus package that lacked specifics or major new policies.
The government has been promising a comprehensive set of measures to lure investment and arrest a slowdown in Southeast Asia's largest economy. Jokowi, as the president is known, said 89 regulations would be changed by the end of October, without going into details in a short address to reporters at the Presidential Palace in Jakarta late Wednesday. Tourism and trade between regions will be boosted, and electronic systems will be introduced to simplify the process of getting business permits, he said.
Red tape, land disputes, confusion over permits and overlapping laws have long been obstacles to investing in Indonesia. The country ranked 114th out of 189 in the World Bank's 2015 Ease of Doing Business survey, almost 100 places behind Malaysia and more than 30 below Vietnam. The economy is growing at the slowest pace since 2009, while the rupiah has fallen 13 percent against the dollar this year in the worst performance in Asia after Malaysia's ringgit.
Wisnu Wardana, an economist at PT Bank CIMB Niaga in Jakarta, said he wasn't impressed with the measures announced Wednesday. The government needs to accelerate spending, he said.
"It's like cooking a steak, but they just focus on the seasonings," he said. "Not how to cook the steak first."
Coordinating Minister for Economic Affairs Darmin Nasution said at a media briefing Wednesday before Jokowi announced the stimulus package that "the bottom line is how to improve our permit system. We can't carelessly revoke permits or regulations. The simplification model takes more time."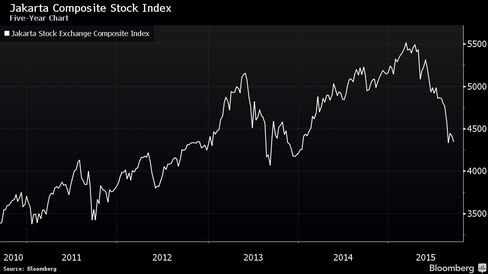 That pledge came after Jokowi started a one-stop-shop for business permits in Jakarta in January, bringing together representatives from 22 ministries and government agencies.
More Details
Speaking at the stimulus announcement, Nasution said the disbursement of government funds to villages will be sped up and export financing will be strengthened, he said, adding that a second batch of measures will be announced at the end of September.
More details of the package were outlined in a document posted on the website of the Coordinating Ministry for Economic Affairs on Thursday. These included encouraging the development of industrial areas outside Java, strengthening village cooperatives to support small businesses, simplifying export and import permits and expanding handouts of rice to the poor.
Metal and coal mining companies will be able to apply for contract extensions as early as 10 year before expiration, compared with two years at the moment, Energy and Mineral Resources Minister Sudirman Said told reporters at a briefing in Jakarta on Thursday. The government will cut its share of revenue from gas projects to reduce prices for fertilizer, petrochemical and electricity companies, IGN Wiratmaja Puja, a director of oil and gas at the ministry, said Thursday.
Before it's here, it's on the Bloomberg Terminal.
LEARN MORE