U.S. Stocks Retreat Following Second-Strongest Rally This Year
Equities can't sustain rally after gains in China, Japan

Markets remain prone to wide swings, shifts in sentiment
U.S. stocks dropped as market volatility remained pervasive, with equities giving back more than half of Tuesday's gains from the second-strongest climb this year.
An early advance withered after a report showed job openings rose more than forecast, and declines picked up pace after a jump in Apple Inc. lost momentum during an event unveiling new products. Equity futures had soared at the outset, sparked by strong gains in Japan and China, leading to the brief opening surge. Energy companies led declines as oil slid 3.9 percent. Apple fell 1.9 percent.
The Standard & Poor's 500 Index fell 1.4 percent to 1,942.04. at 4 p.m. in New York, after earlier rising as much as 1 percent. The gauge rallied 2.5 percent yesterday, second only in 2015 to a 4 percent jump on Aug. 26. The Dow Jones Industrial Average lost 239.11 points, or 1.5 percent, to 16,253.57. The Dow was up 172 points at its peak today. The Nasdaq Composite Index sank 1.2 percent. About 7.2 billion shares traded hands on U.S. exchanges, in line with the three-month average.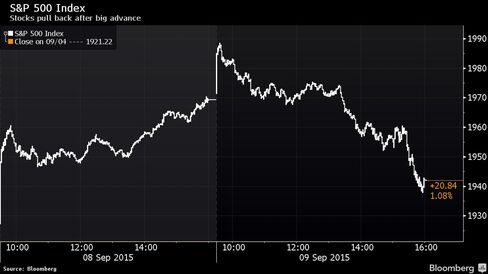 "Yesterday seemed to be more of a sellers strike with just small buying and today there does not seem to be much buying," said Rick Fier, director of equity trading at Conifer Securities LLC in New York. "If anything, it's been selling all day after JOLTS number pointing to higher rates."
U.S. data today showed job openings surged to a record in July, as hiring cooled, a sign employers are having a hard time finding qualified workers amid tightening labor market. The number of positions waiting to be filled jumped by 430,000, the biggest gain since April 2010, to 5.75 million. Economists surveyed by Bloomberg forecast 5.3 million openings.
Equities earlier joined in a global rally as China's markets climbed amid optimism that more government stimulus is on the way, while stocks in Tokyo staged the biggest rally since 2008 amid speculation a selloff that drove valuations to an 11-month low was overdone.
"The market is trying to consolidate from a huge move we had yesterday,'' said Jeffrey Yu, head of U.S. single stock derivatives trading at UBS AG in New York. "We're sitting in a range. It's just that it's very volatile within that range."
Wide Swings
Wide market swings and rapid shifts in sentiment have become more prevalent since China's currency devaluation on Aug. 11 sparked concerns that a slowdown in the world's second-largest economy would spread. The S&P 500 yesterday regained almost three-quarters of its 3.4 percent slide last week, which was the second-biggest retreat since December behind the 5.8 percent plunge it suffered in the five days through Aug. 21. In 11 of the last 14 days, the benchmark has closed with a move of at least 1.3 percent.
The Chicago Board Options Exchange Volatility Index Tuesday snapped a streak of 11 straight sessions above 25, a level that before August it touched on just five days since 2011. The respite was brief as the measure of market turbulence known as the VIX climbed 5.3 percent today to 26.23.
Investors remain confident the Federal Reserve will raise borrowing costs this year, even as they pare bets on a move at next week's meeting. Traders are pricing in a 28 percent chance the central bank will increase rates this month, down from 48 percent before China's devaluation. Odds of a move at the December gathering are about 59 percent, according to data compiled by Bloomberg.
Fed Watch
A Bank of America study showed that the Fed rarely makes a move amid the level of recent equity turbulence. In four tightenings since 1990, including the tapering of bond purchases announced in 2013, the S&P 500 had posted positive returns over the prior three and six month periods, and was within 3 percent of the gauge's 52-week high, according to the report. By comparison, the benchmark index is down 6.6 percent over the last three months and is 8.9 percent below its high of 2,130.82 reached in May.
"Today's job openings report is very important because with the combination of job openings and an unemployment rate down to 5 percent, it's clearly a tight labor market and it copper-fastens some of the criteria the Fed looks at," said David Kelly, chief global strategist at JP Morgan Funds in New York.
The afternoon swoon sent all of the S&P 500's 10 main groups lower, led by energy, consumer staples and health-care companies as they fell at least 1.6 percent. Nine of the industries lost more than 1 percent.
West Texas Intermediate crude fell 3.9 percent as estimates that U.S. stockpiles rose reinforced worries that there's no end in sight for the global supply surplus. Marathon Oil Corp. tumbled 8.6 percent, the most since November, while Apache Corp. and Noble Energy Inc. slumped at least 3.9 percent.
Coca-Cola Enterprises Inc. sank 4 percent to lead the slide among consumer staples companies. Philip Morris International Inc., Wal-Mart Stores Inc. and Procter & Gamble Co. paced declines, losing more than 1.8 percent.
Biotechs, Netflix
Biotechnology shares weighed on the health-care group. Alexion Pharmaceuticals Inc. and Regeneron Pharmaceuticals Inc. slid more than 2.8 percent. Amgen Inc. dropped 2.3 percent after a 5.1 percent jump Tuesday. The Nasdaq Biotechnology Index sank 2.2 percent following a 4.2 surge yesterday.
Device maker St. Jude Medical Inc. lost 3.7 percent, its biggest slide since last October, after the company said Chief Executive Officer Daniel Starks will retire at the end of the year and be replaced by Michael Rousseau, currently chief operating officer.
United Continental Holdings Inc. rose 0.3 percent, trimming an earlier 2.5 percent gain following the ouster of Chief Executive Officer Jeff Smisek and two of his lieutenants while federal investigators probe the airline's ties to the former chairman of the Port Authority of New York & New Jersey.
Netflix Inc. climbed 4.5 percent to snap a seven-session losing streak, its longest since March 2014. The shares had fallen 19 percent since Aug. 27. The online video-streaming company plans to enter Hong Kong, Taiwan, Singapore and South Korea early next year as it races to complete a global rollout.
Before it's here, it's on the Bloomberg Terminal.
LEARN MORE