Puerto Rico to Make Debt Restructuring Proposal in a Few Weeks
Commonwealth faces a $500 million cash shortfall in June 2016

Moratorium on principal payments is being pursued by island
Puerto Rico plans to present a debt-restructuring offer in a few weeks to address a projected $13 billion shortfall in bond payments due over the next five years that the commonwealth says it can no longer afford to pay.
"We'll be ready with a first proposal as to how to make the $18 billion worth of contractual debt service fit to the available resources we have under this plan," Jim Millstein, the island's chief restructuring adviser, said in San Juan, after Governor Alejandro Garcia Padilla's administration released what they're calling a fiscal and economic growth plan. Puerto Rico said it only has $5 billion available for the payments.
Prices of some of the commonwealth's bonds, which have been trading at distressed levels, fell after Puerto Rico made it clear in the proposal that it would seek to force losses on most debt investors. It also pursue a moratorium on principal payments for several years, according to Melba Acosta, the island's main debt official.
The proposal paints a dire picture of Puerto Rico's finances and the consequences to the island's 3.5 million residents. The projected shortfall is after anticipated savings from the consolidation of 135 public schools, reductions in health-care spending, additional subsidy cuts and reductions in payroll expenses. The estimate excludes the island's electric and water utilities.
"We're a long way from knowing what the end result is going to be on some of these credits," Matt Dalton, chief executive officer of Rye Brook, New York-based Belle Haven Investments, said prior to officials submitting the plan to the governor on Tuesday. The firm manages more than $3 billion of municipal securities, including Puerto Rico debt.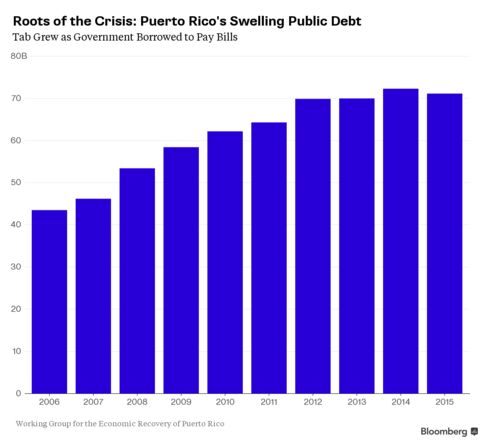 Puerto Rico is facing a more immediate liquidity crunch. Officials estimate the island will have a $500 million shortfall by the end of June. The commonwealth owes $805 million on July 1 to general-obligation bondholders, according to data compiled by Bloomberg. Officials anticipate a total revenue shortfall of $28 billion in the next five years that may be reduced by about half by cutting expenditures and boosting revenue collections.
The plan indicated that the commonwealth may have trouble paying off its general obligation bonds and has authorized its advisers to begin working on a voluntary exchange offer. "Available resources may be insufficient to service all principal and interest on debt that has a constitutional priority," the report said.
That may pit holders of general-obligation debt, which Puerto Rico's constitution says must be paid first before other expenses, against investors of sales-tax bonds, which have a dedicated revenue stream.
"These claims actually compete with each other," Millstein said. "Reconciling the competing claims of the creditors is going to be one of the difficult tasks here."
General-obligation bonds with an 8 percent coupon and maturing July 2035 traded at an average price of 73.2 cents on the dollar, down from 75.5 cents on Tuesday. That's up from a record-low 66.6 cents on June 30, after Garcia Padilla said the island would seek to delay payments, according to data compiled by Bloomberg. The average yield was about 11.5 percent.
Moody's Investors Service said it may downgrade the commonwealth below its current rating of Caa3 depending on the outcome of bondholder negotiations.
The governor will select a five-member control board from nominees submitted by creditors, outside stakeholders and possibly the federal government, officials said prior to the release of the plan to the public. That panel will have the power to enforce budgetary cuts. Some analysts have called for federal control of any oversight panel.
Puerto Rico and its agencies have racked up what they say is an unsustainable debt load after borrowing to fill budget shortfalls and push out payments. Various administrations turned to deficit borrowing with the expectation that an improving economy would end the practice. Instead, the island's economy has shrunk every year but one since 2006 and is projected to decline another 1.2 percent in the fiscal year ending June 30, 2016.
A Puerto Rico restructuring would be the largest-ever in the $3.6 trillion municipal-bond market, surpassing Detroit's record bankruptcy filing in July 2013, which involved about $8 billion of bonded debt. Puerto Rico entities are unable to access Chapter 9. Some of the plan's proposed changes, such as welfare reform, changes to labor laws and eliminating corporate-tax loopholes, will require approval from Puerto Rico's legislature.
A commonwealth agency, the Public Finance Corp. defaulted on a $58 million debt-service payment on Aug. 3, a first for a Puerto Rico entity, because lawmakers failed to allocated funds in a budget crunch. The agency also skipped a Sept. 1 interest payment.
The debt-adjustment proposal follows a Sept. 1 tentative agreement between Puerto Rico's main electric utility and some of its bondholders that would offer investors 85 percent of the value of the bonds they hold through a debt exchange. The power provider has $8.3 billion of debt and is seeking to modernize plants that rely on oil to produce electricity.
Before it's here, it's on the Bloomberg Terminal.
LEARN MORE