New Zealand Signals Further Easing After Third Rate Cut
N.Z. currency falls more than 2% as growth forecast slashed

Inflation forecast to remain below RBNZ target for fifth year
New Zealand's central bank lowered interest rates for the third time in three months and signaled another cut may be needed to boost inflation as growth slows. The currency slumped.
"At this stage, some further easing in the OCR seems likely," Reserve Bank Governor Graeme Wheeler said Thursday in Wellington after cutting the official cash rate a quarter percentage point to 2.75 percent. "This will depend on the emerging flow of economic data."
Wheeler is responding to new RBNZ forecasts that show growth in the 12 months to March will be the weakest in three years amid a slump in dairy prices and dwindling demand, while inflation is projected to hold below his 2 percent target midpoint for a fifth straight year. Most economists forecast he will cut the benchmark to 2.5 percent in coming months, completely reversing last year's four rate increases.
"The next cut in interest rates will be in October," Stephen Toplis, head of research at Bank of New Zealand in Wellington, said in an e-mailed note.
"There is no need to wait unless data surprises to the strong inflationary side."
The New Zealand dollar slumped 2 percent after the statement. It bought 62.66 U.S. cents at 12:09 p.m. in Wellington from 63.96 cents before the decision.
"Further depreciation is appropriate given the sharpness of the decline in New Zealand's export commodity prices," Wheeler said.
Further Cuts
All 17 economists surveyed by Bloomberg forecast today's decision, with 13 tipping at least one further decline in rates this year.
The RBNZ today forecast that the 90-day bank bill yield will fall to 2.6 percent by the third quarter of 2016, 50 basis points lower than its previous projections in June. The outlook is seen as a guide to the direction of the cash rate.
"Our forecast track has 50 basis points of interest rate reductions built in," Wheeler said. "We're taking 25 basis points of that adjustment today."
The central bank indicated in its statement that if global economic conditions weakened further than it currently expected then it could reduce the cash rate by another 50 basis points to 2 percent. Wheeler said New Zealand is well positioned with a cash rate at 2.75 percent and the government's budget near balance.
"In terms of monetary and fiscal stimulus, if it is needed, there's plenty left in the tank," he said.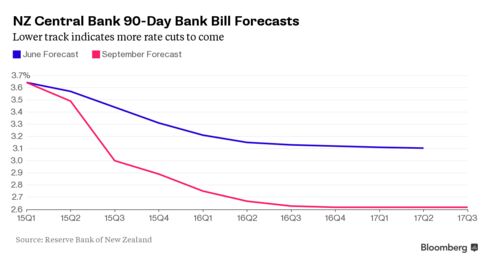 Gross domestic product will expand 2.2 percent in the first quarter of 2016 from a year earlier, the RBNZ forecast. That's less than the 3.3 percent predicted in June. Annual growth will recover to 2.8 percent in the first quarter of 2017, it said.
"The economy is adjusting to the sharp decline in export prices," said Wheeler. "Activity has also slowed due to the plateauing of construction activity in Canterbury, and a weakening in business and consumer confidence."
Dairy Prices
Prices for dairy, the country's biggest export, fell to a 12-year low in August, prompting Fonterra Cooperative Group Ltd. to slash its payment to New Zealand farmers to the lowest in about 10 years. Business confidence dropped to a six-year low.
Consumer-price inflation will be 1.5 percent in the 12 months ending March 31, accelerating from 0.4 percent in the second quarter this year, the bank said Thursday. Inflation will pick up to 2.1 percent by the third quarter next year. Three months ago, inflation was expected to reach 2 percent by the end of 2016.
Inflation is rising as the lower currency makes imports such as fuel more expensive, the central bank said. There is "considerable uncertainty" around the timing and the magnitude of the exchange rate pass-through, it added.
Booming Housing
Wheeler lifted rates last year when strong economic growth, a booming housing market and record immigration suggested price rises ahead. While demand is slowing and the jobless rate is projected to rise, the property market remains overheated. House prices rose 11.3 percent in the year through August -- the fastest since November 2007 -- while in Auckland, home to a third of the nation's 4.5 million people, they surged 20 percent.
Auckland house prices "are becoming more unsustainable," said Wheeler. "Residential construction is increasing in Auckland but it will take some time to correct the imbalances in the housing market."
The RBNZ will introduce new measures aimed at Auckland residential property investors from Nov. 1, requiring them to have a deposit of at least 30 percent for a mortgage. The central bank has said it expects this to reduce the city's house-price inflation by as much as 4 percentage points.
Before it's here, it's on the Bloomberg Terminal.
LEARN MORE