Meet the Official Tasked With Explaining China's Central Bank
PBOC economist Ma Jun now a key conduit to outsiders

Ma joined the central bank from Deutsche Bank in 2014
The People's Bank of China, arguably the world's most opaque major monetary authority, is slowly opening up.
Its mouthpiece: Ma Jun, who in April 2014 made the rare transition from global investment bank to the inner sanctum of China's bureaucracy. When the PBOC on Aug. 25 needed to explain its fifth rate cut since November, Ma emailed journalists to fill in the blanks.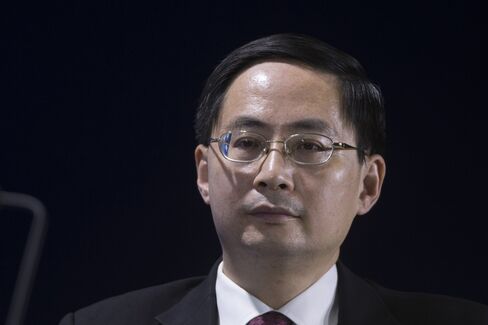 While PBOC Governor Zhou Xiaochuan has downplayed the need for commentary and hasn't made a major public speech since March, Ma's insights helped give context other central banks routinely provide to explain policy.
"As it moves to a more capital-market based financial system and allows capital to flow more freely, the lack of senior officials with global markets experience is a problem for China and the world," said David Loevinger, a former China specialist at the U.S. Treasury Department who's now an analyst at fund manager TCW Group Inc. in Los Angeles. "What China and the world need are more internationally market-savvy guys like the PBOC's Ma Jun."
China influences global markets like never before. Economic output, which was equivalent to about 30 percent of the U.S. economy in 2008, surged to equal almost 60 percent last year in current dollar terms.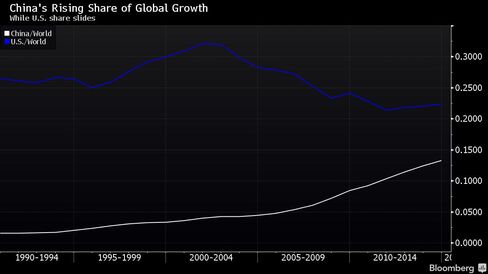 Case in point: The central bank's sudden move Aug. 11 to change its exchange rate regime, pushing the yuan down the most in two decades, roiled emerging market currencies as investors feared a spate of competitive devaluations. Commodities slumped and global equities tumbled.
To soothe nerves, Ma e-mailed reporters the next evening with the subject line: "PBOC Is Able to Stabilize the Yuan Exchange Rate" and said China wasn't planning a race to the bottom. He sent another note days later saying prospects for a big adjustment had "been greatly reduced." The yuan has since stabilized as the PBOC intervened to prop it up.
Ma, who is in his early fifties, isn't the only official speaking to media: PBOC Deputy Governor Yi Gang and Assistant Governor Zhang Xiaohui explained the currency move at an Aug. 13 press conference.
The decision by the State Administration of Foreign Exchange, which is headed by Yi Gang, to start releasing monthly breakdowns of its foreign exchange reserves represents a "bold leap towards first world data transparency," analysts at Westpac Banking Corp. wrote Sept. 8.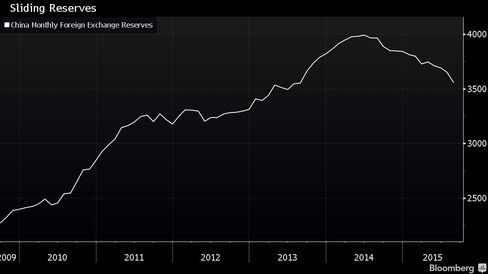 Indeed, PBOC Q&A's have been around a while, with the central bank's website showing such documents have been published since March 1996.
Consistently, it's Ma who has been adding perspective around policy, as he did when the PBOC cut its benchmark rate Aug. 25 and lowered bank reserve ratio requirements. While the central bank's statement didn't explicitly comment on the direction of monetary policy, Ma's note went further.
"The cut in interest rate and deposit reserve ratio doesn't mean a shift in monetary policy direction," Ma wrote to reporters. "China's monetary policy stance is still prudent and neutral."
Compared with the strict wording in the PBOC's official documents, Ma "can use more plain and understandable language," said Li Daokui, a professor at Tsinghua University and a former adviser to the central bank.
"In my view, the PBOC should upgrade the chief economist position -- it shouldn't be the chief economist of the research bureau but of the whole PBOC," Li said. "The chief economist should have a broad view of central banking."
Deutsche Bank
Ma joined the PBOC in the newly created post of chief economist of the bank's research department, having previously been China economist at Deutsche Bank AG in Hong Kong, where he had worked since 2000. He declined an interview request.
While Ma provides commentary in his role within the research bureau, that unit doesn't set policy. And unlike other global monetary authorities with varying degrees of autonomy from the government, the PBOC follows orders from its political master, the State Council.
In a June working paper, Ma and his fellow researchers cut their 2015 growth forecast to 7 percent from 7.1 percent. They also said emerging markets including China generally have four policy options to offset capital outflows and depreciation pressure, including letting the currency weaken.
China Bull
Ma was a China bull before joining the PBOC. In March 2014, just before leaving Deutsche Bank, he forecast 8.6 percent growth for that year, the highest of all 50 economists surveyed by Bloomberg. He pinned his views on reduced overcapacity, deregulation in key sectors, rebounding external demand and more infrastructure spending. Last year's expansion ended up being 7.3 percent, the slowest since 1990.
Major central banks don't have a common job description for the top forecaster but often have a senior official whom investors look to for guidance. Former European Central Bank Executive Board member Otmar Issing and Charlie Bean, a former Bank of England deputy governor, are examples of officials who were prominent in explaining monetary policy.
Ma worked at the research arm of China's State Council from 1988 to 1990, and was an economist at the International Monetary Fund and World Bank from 1992 to 2000, according to a Deutsche Bank biography. He holds a master's degree from Fudan University in Shanghai and a doctorate in economics from Georgetown University in Washington, it said.
Communication Skills
"More important the than institutional set up, the personalities, talents, and communications skills of top management of a central bank matter the most when it comes to communicating clear messages and avoiding confusion," said David Stockton, a former Federal Reserve director of research and statistics who's now a senior fellow at the Peterson Institute for International Economics in Washington.
Still, transparency is a work in progress at the PBOC, which said in its quarterly monetary policy report released in May that "too much information will probably turn into noise."
— With assistance by Enda Curran, and Xin Zhou
Before it's here, it's on the Bloomberg Terminal.
LEARN MORE