Gold's Mr. Fixit Starts Second Act With Anglo Platinum Discards
Sibanye chief targets gold, coal after $330 million purchase

Investor skepticism of South Africa creates opportunity: CEO
Crippling labor strikes, geriatric mines and precious metals prices scraping along at their lowest levels in half a decade don't faze Neal Froneman, head of the world's best-performing gold producer over the past two years.
Froneman, known in the industry as Mr. Fixit, defied investors' skepticism to build up Sibanye Gold Ltd. from a spinoff of three old, strike-prone South African mines owned by Gold Fields Ltd.
Now he wants to do it again in platinum and maybe even coal.
"We think that we're very well positioned to move into other difficult social environments within South Africa and make a meaningful difference," Froneman, Sibanye's chief executive officer, said in a Bloomberg Television interview. "We have some experience and we understand these risks very well."
While other investors flee the nation, Froneman, 55, reckons he can overcome its fractious labor relations, high costs and low productivity to buy assets cheaply, turn them around and make money. With that aim, Sibanye announced Wednesday it's paying at least $330 million for three Anglo American Platinum Ltd. mines that were paralyzed by a record five-month strike last year.
Negative View
"The market, on the unbundling of those Gold Fields assets, had a fairly negative view," Froneman said. The latest deal "is not too dissimilar."
The CEO will get an easier ride this time as his standing has rocketed in the past two years, in tandem with the 60 percent jump in Sibanye's share price. That's the best performance by far among a group of 15 large gold producers tracked by Bloomberg Intelligence. The gauge, including Barrick Gold Corp. and Gold Fields, is down 50 percent in the period as gold slumped 20 percent.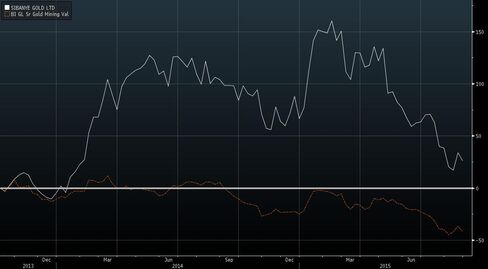 Sibanye rose 5.4 percent in Johannesburg on Wednesday after the announcement and fell 3.4 percent on Thursday. Amplats, as Anglo American Platinum is known, was 4.4 percent lower today after yesterday's 3 percent gain.
The transaction, which gives Amplats 35 percent of the cash flow from the mines for the first six years after the acquisition, won't raise Sibanye's net debt beyond its earnings or threaten its dividend, Froneman said.
Near Bottom
"This is less about trying to build a conglomerate and more about chasing value," said Richard Hart, a Johannesburg-based analyst at Arqaam Capital Ltd. Platinum-group metals "prices are at or near their bottom. There's probably no better time to acquire assets," Hart said.
The same logic applies with the gold industry in South Africa, Froneman's next target, where data compiled by Bloomberg shows a third of output and half of mines lose money.
Cost Reduction
"Cost reduction is going to come from consolidation," he said. "Of course, as Sibanye we'd like to play a role in that."
The company may also seek to buy a coal mine and produce its own electricity, Froneman said. That would reduce reliance on state-owned Eskom Holdings SOC Ltd., which is struggling to generate enough power to keep the lights on.
Mr. Fixit's career hasn't been without its own hitches.
After earning the nickname by turning around shafts at Harmony Gold Mining Co. in the 1990s, Froneman became CEO of Aflease Gold Ltd. and spun out SXR Uranium One Inc. in 2005 in a merger with a Canadian company. Three years later, he resigned after prices collapsed and production stalled.
Success returned with Sibanye, set up in November 2012 with the spinoff of three mines, two of which had suffered a six-week strike just a month before.
Breaking Even
Declines in platinum prices, to a six-year low last month, may still thwart Sibanye's latest deal, said Hurbey Geldenhuys, a mining analyst at Vunani Securities Pty Ltd. Including capital expenditure, costs at the mines in the Rustenburg area will be about 12,000 rand an ounce, against a spot price of 11,500 rand for the combination of platinum-group metals that they produce.
"At current prices, even if they succeed to cut costs by 15 percent -- and
they're good at doing that -- those mines will barely break," Geldenhuys said.
It's not a risk that's bothering Froneman, who says the mines won't affect shareholder returns even if metals prices don't increase for three years.
"I don't think it's going to change in one month or six months," he said. "But within a year to two years, it's going to change."
Before it's here, it's on the Bloomberg Terminal.
LEARN MORE