Li Equates Managing Chinese Economy to Playing Chess Game
China opens onshore currency market to foreign central banks

`China's open door will open wider and wider,' Li Says
Premier Li Keqiang likened managing slowing growth to a "Chinese chess game," balancing short-term stimulus moves against longer-term reform efforts to open up the world's second-largest economy.
"We have plenty of tools at our disposal," Li saidThursday in a keynote address at the World Economic Forum's "Summer Davos" meeting in Dalian, China. "You need to be careful with immediate moves you take. That is to say, we need to take targeted measures to resist downward pressure on the economy at the same time we need to build momentum for sustainable and healthy economic growth."
Li is seeking to buttress global confidence in his nation's slowing economy after a stock market rout and surprise currency devaluation last month triggered a worldwide sell off in commodities, equities and emerging market currencies. His remarks echo those of People's Bank of China Governor Zhou Xiaochuan, who said over the weekend that the rout in Chinese stocks is close to ending and that state intervention stopped a free-fall.
"He's trying to strike a more upbeat note, telling the world that China remains a reassuring force for the international economy, and all countries will benefit from China's economic reforms eventually," said Wang Yukai, a governance professor at the Beijing-based Chinese Academy of Governance. "The premier's speech is a response from China's central leadership to ease the growing doubts across the world over the the country's future development and the wisdom of the government's economic plans."
Downward Pressure
Downward pressure on the economy has increased, with exports falling 5.5 percent in August from a year earlier and the nation's official factory gauge falling to a three-year low. Data Thursday underscored the challenge facing policy makers, as factory-gate deflation deepened in August while consumer price gains increased.
If the economy were to "show signs of slipping out of the reasonable range, we have sufficient capability to respond," Li said. "China will not see a hard landing."
While Li said China has the tools it needs, the central bank's buying of yuan and selling of dollars to defend against a rapid currency depreciation cut foreign-exchange reserves by a record $93.9 billion last month.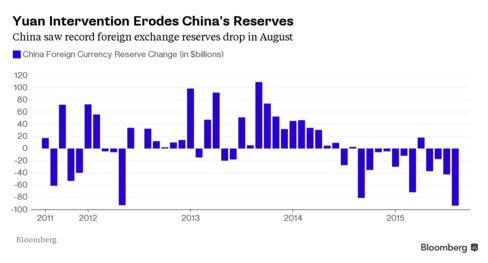 China faces capital outflow pressures after devaluing the yuan as investors expect the currency to keep depreciating, which coupled with the depletion of reserves could complicate efforts to open the economy, according to Rajiv Biswas, Asia-Pacific chief economist at IHS Global Insight in Singapore.
"This could constrain significant further capital account liberalization measures if capital outflows continue in coming months and force the PBOC to expend significant further FX reserves to prevent further yuan devaluation against the dollar, particularly if the Fed hikes policy rates soon," Biswas said.
Federal Reserve policy makers may announce an increase in the benchmark interest rate after their two-day meeting Sept. 16-17. The U.S. central bank hasn't raised rates for more than nine years.
Li said Chinese policy makers have eschewed strong fiscal and monetary stimulus so far, and will not slow the pace of structural reform as they shift the economy's reliance from manufacturing and exports to services and consumption. Services now account for about half of China's gross domestic product and consumption about 60 percent of growth, he said.
Necessary Measures
"We will not be swayed by short-term fluctuations in the economy but we will not take it lightly either," Li said. "We are taking necessary measures of targeted, discrete and precise macro controls" to mitigate volatility and prevent spillovers.
Li said steadily opening the financial sector has been one of the nation's goals, and reiterated comments he made Wednesday that China will seek to keep the exchange rate at a reasonable and balanced level. In the latest step toward opening the capital account, China will allow foreign central banks to directly enter the interbank currency market, Li announced in the speech.
"Policy makers want to make it clear to foreign investors and politicians that it is still opening, its reform is still on track," said Larry Hu, head of China economics at Macquarie Securities Ltd in Hong Kong. "After the RMB devaluation, the world thinks that China will start a currency war. China policy makers want to confirm that they don't want that."
— With assistance by Kevin Hamlin, Aipeng Soo, and Xin Zhou
Before it's here, it's on the Bloomberg Terminal.
LEARN MORE