Charting the Markets: Investors Race to Riskier Assets
Here's why Tokyo's equity benchmark soared 7.7 percent on Tuesday.
Stocks are rallying around the world on expectations China will be able to stabilize its financial markets. China's Shanghai Composite Index rose for a second day, bringing its two-day gain to 5.3 percent. Asian equities, as measured by the MSCI Asia Pacific Index, jumped the most since 2009. The moves came after all three major U.S. indexes - the S&P 500, the Dow Jones Industrial Average and the Nasdaq Composite - registered their second biggest gains of 2015.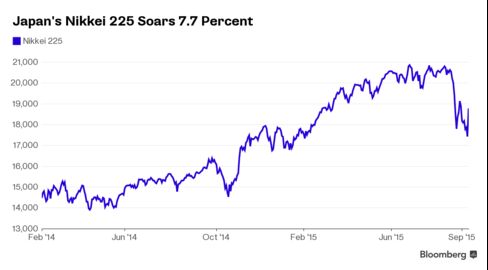 What a difference a day makes. On Tuesday Japan's Nikkei 225 dropped 2.4 percent, erasing all its gains for the year. Today the equity benchmark soared 7.7 percent, its biggest increase since 2008. The gauge has been one of the hardest hit by China's move to devalue its currency. China is Japan's biggest trading partner. Since Aug. 11, the Nikkei slumped 16 percent through Tuesday's close. Only China's Shanghai Composite Index fared worse out of 93 global primary equity indices.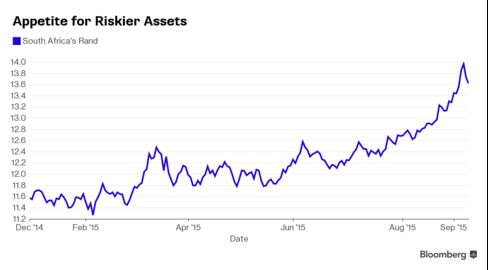 Appetite for riskier assets is boosting currencies of commodity-exporting countries such as South Africa, Australia, New Zealand and Malaysia. South Africa's rand gained against all sixteen of the world's major currencies including the dollar, the euro, the yen and the pound. A China slowdown and a possible imminent U.S. interest rate hike are two of the reasons these commodity-focused currencies have slumped this year. The rand fell to a record low against the dollar on Monday, having sunk 15 percent in 2015.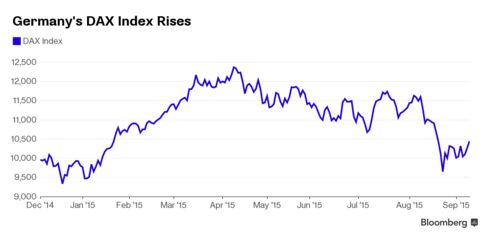 European stocks rose for a third day, the longest winning streak since early August. Germany's DAX Index followed suit. Along with Spain, the Netherlands and France, Germany has taken the brunt of the equity sell-off since China devalued the yuan on Aug. 11. The world's second largest economy is an important market for companies like BMW. The luxury carmaker derives 19 percent of its sales from China. The DAX is now trading 15 percent below its record high in April, after entering a bear market - a drop of 20 percent - at the end of August.
Mark Barton is a presenter on Bloomberg TV. Follow him on Twitter @markbartontv
Before it's here, it's on the Bloomberg Terminal.
LEARN MORE