Who's the Better Keynesian? Schaeuble Says He's the One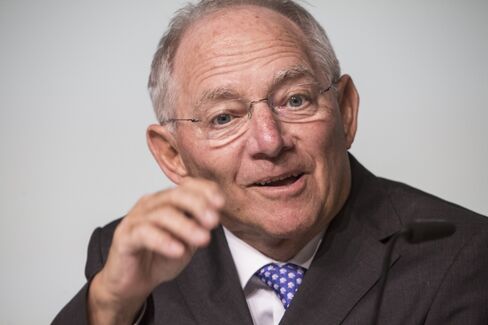 German Finance Minister Wolfgang Schaeuble sought to turn the tables on critics of his fiscal-discipline push, saying he's actually the better Keynesian.
Schaeuble, the guardian of Germany's balanced budget and Chancellor Angela Merkel's point man on austerity in the euro area, dealt a slap at antagonists such as Nobel laureate Paul Krugman by rebuffing "star economists" who advocate deficit spending. Instead, years of debt reduction are giving Germany the leeway to pump at least 6 billion euros ($6.7 billion) into the economy next year as aid for a record number of refugees arriving in the country, Schaeuble said.
"In Germany we probably rely far more on John Maynard Keynes than many so-called star economists on the international stage," Schaeuble said in a budget speech to parliament in Berlin on Tuesday. "It's neither original nor serious -- sometimes it's boring -- to advocate more debt and a flood of central bank money in almost every economic situation, whether it's going well or not."
Though Schaeuble didn't name names, his comments extend a proxy skirmish over Germany's contribution to global and European economic growth that hasn't gone away since the financial crisis began in 2008.
As Merkel balanced the budget, Krugman urged Germany to spend more to help the euro region emerge from its debt crisis. Schaeuble now plans to shift a 2015 budget surplus to 2016 to help counter the refugee crisis while avoiding a relapse into deficit. An extra 6 billion euros would add almost 2 percent to the 312 billion euros ($349 billion) in German federal spending planned next year.
'Schaeuble's World'
Krugman took on Schaeuble in April, ridiculing his prescription of fiscal austerity and labor-market overhauls as the cure for Europe's economic woes.
"It's a flat-out rejection of everything we know about macroeconomics, of all the insights that European experience these past five years confirms," Krugman wrote in a New York Times column. "In Mr. Schaeuble's world, austerity leads to confidence, confidence creates growth, and, if it's not working for your country, it's because you're not doing it right."
Schaeuble, a lawyer by training, said policy makers, economists and journalists who advocate debt-funded stimulus are taking a partial view of Keynes, the 20th-century British economist most associated with advocating an active government to spur economies out of recession.
"Of course they all cite Keynes, whom they presumably all haven't read," Schaeuble told German lawmakers. "I want to point out that you've understood Keynes correctly only if you don't pile on new debt during economically good times."
The extra spending will boost German gross domestic product by 0.2 percentage point to 0.3 percentage point in 2016, said Marcel Fratzscher, head of the DIW economic institute.
"This is an unplanned stimulus package that will certainly help the German economy," he said in an interview in Berlin on Tuesday.
Before it's here, it's on the Bloomberg Terminal.
LEARN MORE