Uber's China Rival Says It Has to 'Burn Cash' to Build Scale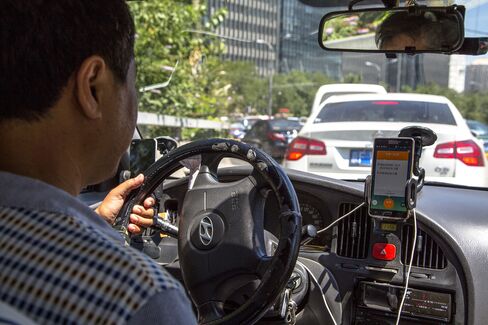 Didi Kuaidi, the Chinese car-booking competitor to Uber Technologies Inc., said it had to spend on driver incentives in order to build enough economies of scale to tip the business into a "virtuous circle."
"You need a sufficient operational base to have enough users -- if you only had 10 or 20 cars, you will never be able to book one," Didi Kuaidi President Jean Liu said at a forum in Hangzhou, China, on Monday, according to a transcript of the speech obtained by Bloomberg.
By achieving scale, "waiting times are shortened by a little, fares become cheaper, and because more drivers on the platform don't require subsidies, you create a virtuous circle of increased orders, customer retention."
Liu was explaining why the company was "burning cash" to chase operational scale and did not say whether the company will eventually end driver subsidies. The contents of the transcript were confirmed by Didi Kuaidi, which said it still provides subsidies to commuters and drivers and that incentive levels fluctuate.
Didi Kuaidi, formed from a merger of two competing Chinese taxi-hailing apps in February, has competed with Uber in giving out incentives to attract drivers and free rides to win over commuters. The subsidies, which can reach multiple times the actual fare, has also created a cottage industry aimed at scamming the companies of the payouts.
'Losing Money'
"This kind of subsidy activity has got to stop because nobody can afford to lose money forever," Robin Li, Baidu Inc. chairman, said in an interview at the company's annual conference in Beijing. "This vertical, transportation, is not different from any other vertical - dining, or laundry services," he said, referring to businesses using online platforms to connect to real-life services. "At this time those O2O services are losing money, but I think one day it will stop."
Baidu invested in Uber China and integrated the ride-booking company's hailing service into its mapping function to provide better user experiences, Li said.
Drivers for Didi Kuaidi contacted by Bloomberg say the company has reduced the subsidies to drivers.
"The subsidies I get from Didi are about half of the peak in the past," said Tom Teng, who has been driving part-time for Didi for about six months. "It is pretty easy to get orders nowadays, there are so many of them."
Raising Billions
Both companies have been raising funds from investors to pay for their expansion plans.
Didi Kuaidi is close to raising about $3 billion from investors, more than it had originally planned, according to people familiar with the matter. The latest round of financing values the company at $16.5 billion, according to one of the people, who asked not to be named because the details are private.
On Tuesday, Uber Chief Executive Officer Travis Kalanick said at the Baidu World conference in Beijing that the company is now handling 1 million rides a day in China and created 100,000 jobs. Its market share has climbed to 30 percent to 35 percent from 1 percent at the start of the year, and Uber plans to add about 100 more cities to the 20 that it currently operates in, Kalanick said.
Uber China has raised $1.2 billion and will continue its fundraising as more investors are interested, according to Huang Xue, a Beijing-based spokeswoman. The company has attracted investors including Baidu Inc., a unit of China's Citic Group Corp. and China Life Insurance Co., people familiar with the matter said last month.
— With assistance by Tian Ying, and Tim Culpan
Before it's here, it's on the Bloomberg Terminal.
LEARN MORE