With wall-to-wall coverage of the U.S. presidential election campaign, you could be forgiven for missing the fact that Singapore is also going to the polls. Here are five quirky things about the country's general election, which like some other processes in the island state, is a bit different.
Compulsory voting
All Singaporeans who are 21 or over have to vote on election day or stand to lose their right to vote in subsequent polls. A list of people who didn't vote is published by the elections department after the ballot, and offenders are removed from the register of electors. Getting back on the ledger is possible only if you have a valid reason for not having voted, like delivering a baby, or are willing to pay S$50 ($35).
For many Singaporeans, Sept. 11 will be the first time they get to vote, as opposition parties will contest every parliamentary seat for the first time since independence in 1965. A record 2.5 million Singaporeans will be at the ballot boxes this year, according to the Elections Department.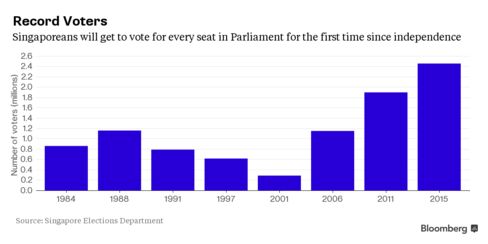 Quick campaign
Singapore has one of the shortest official campaign periods in the world. This year, candidates will get nine days, the minimum required by the constitution, to woo voters. The country also observes a cooling off day, where no campaigning is allowed on the eve of polling day. Compare that with the U.S., where campaigning for the Nov. 8, 2016, presidential election has been in full swing for some time now.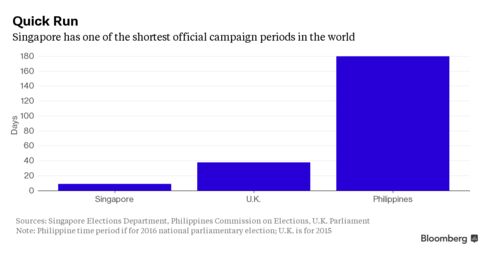 No surveys
It is illegal to publish the results of an election survey or conduct exit polls once an election is called, offenses punishable with up to 12 months in jail and/or a fine not exceeding S$1,500. The Attorney-General's Chambers issued "stern warnings" to Singapore Press Holdings Ltd., publisher of the island's most-widely read paper, The Straits Times, in 2013 after it printed the results of a survey of voters during a by-election. Doctor Joseph Ong was arrested in 2011 for publishing an exit poll during the 2011 general election online, AsiaOne reported at the time.
No entertainers
Candidates can only hold outdoor political rallies at designated sites, which are allocated through a ballot. Parties are also barred from sharing the stage with traditional Getai singers, live performances held during the Hungry Ghost Festival that coincides with this year's vote, a likely draw for middle-aged voters, the Straits Times reported Aug. 15. That's different from election campaigns in India and Indonesia, where actors and entertainers frequently endorse candidates and appear in campaign rallies.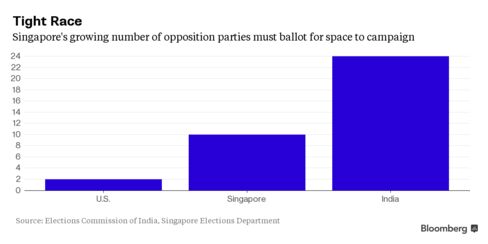 Group districts
The government created multi-member wards in 1988 where voters elect a group of candidates instead of an individual. The system requires parties to field as many as six candidates, including at least one of a minority ethnicity. While some have argued the rule makes it harder for smaller opposition parties to field candidates, it also resulted in the removal of then-foreign minister George Yeo in 2011 when the ruling People's Action Party lost in his district in the general election.
Singapore also reserves parliamentary seats for Non-Constituency Members of Parliament, who are the "best-losers'' among the opposition candidates. The system ensures a minimum number of opposition members of parliament after each election. While NCMPs are entitled to vote on most issues, they don't represent any particular district. There were three in parliament before it was dissolved for the upcoming eleciton.
Before it's here, it's on the Bloomberg Terminal.
LEARN MORE