Myanmar November Election Campaign Opens: What You Need to Know
Nobel Prize Winner Suu Kyi Barred From Becoming President

Army Automatically Granted a Quarter of Seats in Legislature
Campaigning for Myanmar's Nov. 8 general election begins with as many as 90 parties competing for legislature seats. It's the first vote since the formation of a quasi-civilian government in 2011 and probably the most transparent since Myanmar's former military rulers began dabbling with multi-party voting in 1990.
The last ballot in 2010 ended half a century of military rule and led countries including the U.S. to lift sanctions, attracting a wave of money to one of Southeast Asia's poorer economies. Direct foreign investment rose tenfold to $4.1 billion between 2009 and 2014, according to Chatham House.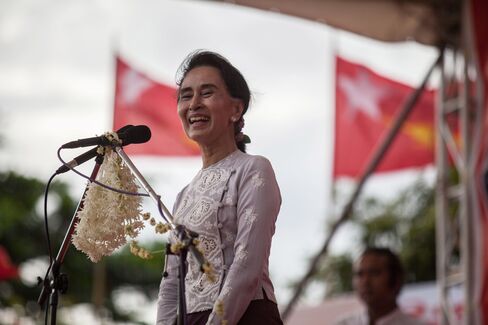 Still, there are signs the market-based reforms initiated after 2010 are losing momentum. Here's what you need to know ahead of the vote:
Main Parties:
* The National League for Democracy is led by Nobel peace prize-winning democracy activist Aung San Suu Kyi. She first contested elections in 1990 while under house arrest. Her party won almost 60 percent of that vote and more than 80 percent of the seats in the legislature, but the military did not cede power. While Suu Kyi's popularity could help the NLD win a majority, the constitution bars her from becoming president as her immediate family members have foreign citizenship.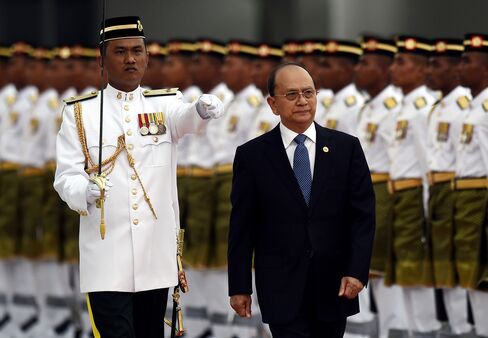 * The Union Solidarity and Development Party is led by President Thein Sein and has guided Myanmar's opening since the junta was officially dissolved in 2011. The USDP has promoted talks to end more than half a century of ethnic violence, though its ties to the military have sapped support for the party. The USDP faced recent internal tensions with Thein Sein removing parliamentary speaker Shwe Mann as party leader.
Process:
* About 30 million of Myanmar's 54 million people will be eligible to vote for 75 percent of the 664 legislative seats
* A quarter of seats in both houses of parliament are reserved for members of the military appointed by the commander-in-chief, effectively providing them with a veto over major constitutional changes
* The new legislature elects the president, with the two houses of parliament each proposing a candidate and a third offered by the military
* The president doesn't have to be a lawmaker. The two candidates that don't make the cut become vice presidents
* The new president won't be selected until early next year
Challenges & Obstacles:
* Civil unrest: The country has been beset by armed ethnic insurgencies for decades. While the government has made progress with many of the main militant groups, a nationwide cease-fire accord that would consolidate 15 separate agreements has yet to be ratified and there is sporadic violence, particularly near border areas, that at times spark tensions with China and India.
* Fractured constituencies: The NLD and the USDP tend to poll best in the country's heartland, and smaller ethnic parties dominate in areas near the borders, which may make it harder for one party to win a majority.
* Disenfranchisement: Many of the country's more than 1 million ethnic Rohingya -- who are effectively stateless-- are denied the right to vote. The Rohingya, a Muslim minority, have been marginalized by the government and targeted by militant Buddhists.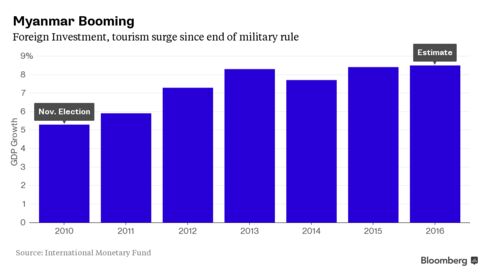 * Economy: Annual growth has averaged more than 7 percent since the 2010 election, helped by foreign funds that financed infrastructure and boosted low-cost manufacturing, alongside an increase in tourists. The Asian Development Bank sees the economy expanding 8.3 percent this year and close to that in 2016. That's off a low base, though, and per capita income was $1,198 last year -- about a fifth of neighboring Thailand.
What the Experts Say:
* "There is no clear-cut route to power for any of the individuals that currently dominate politics. Even if the NLD wins more seats than any other party, the electoral system is likely to keep it from exercising direct executive power. The country can look forward to months of horse-trading over the presidency": Herve Lemahieu, research associate at the International Institute for Strategic Studies, wrote in an Aug. 22 note.
* "Abandoning reform is simply not an option now, even for military hardliners. Although much of institutional life is still dominated by the military, a real politics has emerged in Myanmar in recent years. Any attempt to put the democratic genie back in the bottle is unlikely. But the potential for unrest and even violence remains considerable": Michael C. Williams, visiting fellow at Chatham House in a February report.
* "Washington recognizes that the outcome of the 2015 elections will be a make-or-break moment for Myanmar's reform process and will likely base much of its future policy toward Myanmar accordingly. U.S. officials are prepared for a less-than-perfect outcome": Phuong Nguyen, a research associate at the Center for Strategic & International Studies in Washington, wrote in a July 9 report.
Before it's here, it's on the Bloomberg Terminal.
LEARN MORE