Luxury Homes Unsold After a Year Showing South London Glut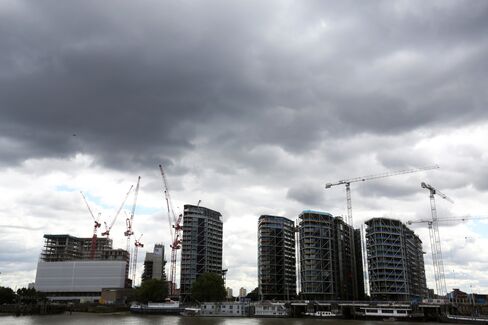 Apartment sale prices in SW8 postcode have fallen $202,900

Malaysians bought 30% of Battersea Power Station first phase
Investors betting on making a quick profit on luxury apartments in south London's Nine Elms district, Europe's largest project for prime new homes, are facing long waits for buyers.
Almost 30 percent of new properties in the district have languished on the market for more than a year, according to real estate data provider Lonres, who didn't include sales by developers. That compares with 12 percent in London's best districts.
High prices and an increase in sales tax are deterring international investors who bought half of all new homes in central London in 2013. Currency turmoil in emerging markets is also weighing on sales. Malaysian investors, who purchased almost a third of the 866 homes in the first phase of the district's $12 billion Battersea Power Station project, saw costs surge as much as 30 percent as the pound strengthened against the ringgit.
"Foreigners have been the biggest source of demand in recent years, but that
appears to be waning," said Hemant Kotak, an analyst at Green Street Advisors. "Locals are unlikely to mop up the rising supply, especially given expectations of interest-rate increases over the next few years."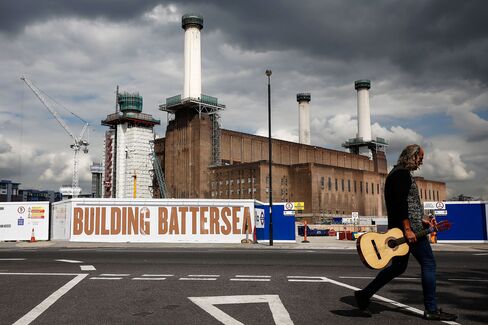 China Roadshow
Homebuilders in Nine Elms, where 18,000 homes are planned including 4,000 at the Power Station development, went on roadshows from Singapore to China selling properties costing from 495,000 pounds ($762,000) for a studio to 30 million pounds for a penthouse, before construction commenced.
With a slowdown in China triggering upheaval in global currency markets, the pound has gained 8 percent against the yuan since April and the same amount against the Singapore dollar.
Homebuilder Redrow Plc has avoided buying land in the district because of the volume of construction, according to Chairman Steve Morgan. "We've intentionally shied away," he said.
Investors who made down payments two or three years ago need to sell the contracts before taking delivery to avoid paying sales tax, said Mayad Rassam, a real estate finance broker at Mutual Finance Ltd., who advises developers. The so-called stamp duty on a 1 million-pound home is 43,750 pounds.
"Owner-occupiers don't buy a property now for completion in two years
time," said Anthony Payne, managing director at Lonres. "The people who've bought these properties are gambling on prices rising."
Family Purchases
The Power Station is the biggest project in Nine Elms and is being developed by a venture between Sime Darby Bhd., SP Setia Bhd. and the Employees Provident Fund. About 40 homes in the first phase were acquired by the shareholders, executives and their families, Battersea Power Station Development Co. said in a statement to Bloomberg News. They also bought a "handful" in the second phase, the company said.
About half the homes under construction or newly completed in Nine Elms were reduced in price before they were sold this year, according to Lonres, which defines Nine Elms as the SW8 postcode, which stretches from Battersea to Vauxhall. The average sales value of all apartments in the district dropped by almost 132,000 pounds to about 818,800 pounds this year from 2014, according to broker Foxtons Plc.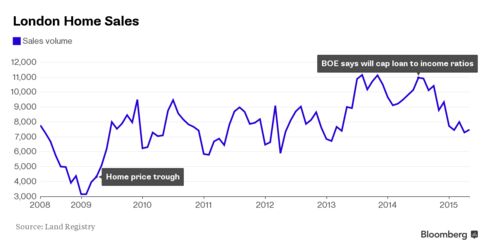 Residential sales fell 26 percent in London in May from a year earlier as demand was damped by affordability tests for U.K.-based buyers, an increase in stamp duty in December and a stronger pound. Chancellor of the Exchequer George Osborne introduced a capital gains tax for overseas homebuyers this year and is reducing interest relief on rentals for the wealthiest landlords from April 2017.
More than 670 properties are being offered for sale for 1 million pounds or more in the SW8 postcode district, according to real estate website Zoopla, though some may be dual listings by brokers. There were 134 sales above that price in the district in 2014, according to Land Registry data.
London's housing market is "a bubble unlike any other bubble because it's being driven by international capital, whereas previously London property bubbles were driven by mortgage lending," said Peter Rees, a professor at University College London and former City of London planning officer. "I have no idea how this bubble is going to end."
Before it's here, it's on the Bloomberg Terminal.
LEARN MORE