Indonesia's Man of the People Finds the People Blocking His Way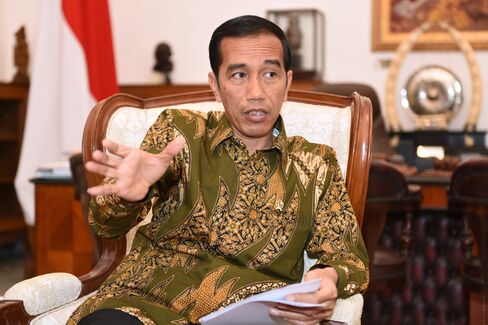 Rupiah, Jakarta share falls reflect concern about slow reforms

Policy flip flops damage credibility of Jokowi pledges
Hours into his job as an Indonesian government minister, Rizal Ramli went public with his views on what President Joko Widodo's government was doing wrong.
Listing policy problems in sectors including electricity generation and aviation, Ramli's remarks set the tone for a tense first meeting last month of Widodo's post-reshuffle cabinet. In a second-level boardroom in the whitewashed colonial-era state palace in Jakarta, Ramli was rebuked by Vice President Jusuf Kalla. Widodo spoke little during the exchange, though pointed out it was his job to make decisions.
"I told him that ministers can't behave like that," Kalla said of Ramli, who is coordinating minister for maritime affairs and a former finance minister. "In the cabinet meeting, everyone was angry at him." That hasn't deterred Ramli, who is still calling out policy missteps and said in an interview last week he was appointed to "rock some boats".
A little over a year ago Widodo, known as Jokowi, was catapulted to the presidency of the world's fourth-most populous nation, the first leader outside the party machinery that has dominated politics and a commodities-driven economy -- Southeast Asia's largest -- for decades.
Entranced by his image as an incorruptible man of the people who could take on vested interests and deliver, Indonesians turned out in droves to vote for the former small business owner who had impressed as Jakarta governor. Famed for walking the streets without security guards to stop and chat with locals, Jokowi, a heavy metal music fan, was treated like a rock star, triggering comparisons with U.S. President Barack Obama and India's Narendra Modi.
Those selling points may be his biggest weakness as hopes fade he can deliver on policies to boost growth and shield the economy from the headwinds hitting markets as China slows. Hemmed in by his own party, his broader ruling coalition, a byzantine bureaucracy and competing power bases, Jokowi, 54, faces falling popularity and frustration among business leaders who say the country may miss the chance to become a dominant emerging market.
Stocks, Rupiah
Investors are responding: The stock index is Asia's worst-performing national benchmark this year and the last time the rupiah was this weak it helped topple then-leader Suharto in 1998.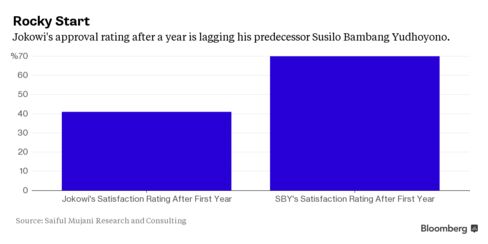 "The administration of President Jokowi remains disorganized," said Bambang Soesatyo, treasurer of the opposition Golkar party. "Coordination between institutions is not running well, ministers are working individually. That's because of the leader's lack of authority."
The challenges are immense. Jokowi governs about 17,000 islands, among them the tourist mecca of Bali, that would stretch almost from New York to London. He inherited a system of government that concentrates power in local chiefs and must deal with oligarchs controlling mineral wealth, plus ubiquitous corruption.
Indonesia, a mix of cultures and ethnicities, has more Muslims than any other country and is the world's third-biggest democracy. It is home to vocal and occasionally violent Islamist extremists.
Gasoline Subsidies
Jokowi has had some success: He scrapped decades-old subsidies on gasoline that distorted the economy and sapped government coffers -- total fuel subsidies cost the state budget 240 trillion rupiah ($16.8 billion) in 2014. As part of efforts to tackle corruption and a so-called "oil mafia," he shut down the state oil company's trading arm.
The National Mandate Party defected from the opposition to his coalition this month, giving Jokowi closer to half the parliamentary seats.
He's budgeted 290 trillion rupiah for infrastructure in 2015, the most in the country's history, promising to build roads, ports and railways with the help of investment from China and Japan. On Wednesday he broke ground on a light-rail project in Jakarta, with construction to start before the end of the year. He also said the government would adjust dozens of regulations but gave few details, saying the changes would be completed in a matter of months.
"I see an improvement in the political situation," said Christian Kartawijaya, President Director of PT Indocement Tunggal Prakarsa, one of Indonesia's largest cement makers. "The government has a good will and a pure heart. But now it needs to be supported by 'let's do it'. From the business side, we are ready to support that."
Jokowi faces a tougher external economic environment than his predecessor, Susilo Bambang Yudhoyono. After a commodity boom last decade that fueled demand for Indonesia's natural resources faded, growth has slowed to a near-six-year low and government spending has missed targets. Jokowi has struggled to capitalize on the groundswell that got him elected on a platform of change, reflected in policy U-turns from a toll road tax to rules on work permits for foreigners.
Flip Flops
Jokowi has acknowledged the damage the policy flip flops cause, with the head of his advisory board saying in July the president had sent a strong message they needed to stop. Jokowi doesn't have a spokesman and rarely holds scheduled media conferences. His chief of staff didn't respond to messages seeking comment.
At stake is the ability of Indonesia, where about half the population is aged below 30, to kick start a long-term overhaul of its infrastructure and institutions to become an Asian powerhouse. McKinsey & Co. predicted in 2012 it could overtake the U.K. and Germany to become a Group of Seven economy by 2030.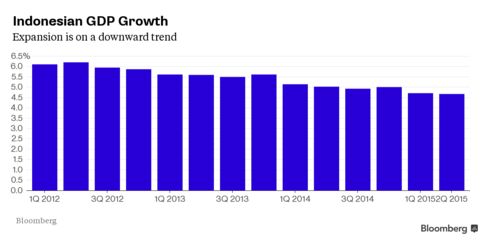 "The problem is whether all these reforms are supported by officials across government, ministers and especially the first echelon down," said Nanang Hendarsah, a director at the central bank. "There can't be any more policy flip flops. Inconsistency will make policy making lack credibility."
In his reshuffle Jokowi promoted former commando Luhut Panjaitan, his main cabinet ally, to coordinating security minister, putting him at odds with party bosses who see Luhut as too influential. The team remains heavy on political appointees, including loyalists of the party of former President Megawati Soekarnoputri, rather than the technocrats Jokowi promised in his campaign.
Speaking in the interview, Ramli said Jokowi supported his push for better governance.
"He doesn't know the elite in Jakarta, after he realized they have their own power game," Ramli said. "I know who are the key players between business and power in Indonesia. He wants a fighter, he chose me because I'm a fighter."
Land Matters
There have been a few public examples of tension between Jokowi and Kalla, who was also a vice president under Yudhoyono and had been mooted as a potential 2014 presidential candidate. The men had different views over who to put in the cabinet and how to reform the anti-corruption law.
Jokowi is "not very competent," according to Hary Tanoesoedibjo, founder of conglomerate MNC Group and the 15th-richest Indonesian, who said the government needed to attract investment or risk higher unemployment. Tanoesoedibjo was a vice-presidential candidate in 2014 for the Hanura party.
There has been little progress in fixing land acquisition, as the rural poor who voted for Jokowi now stand in his way on projects from power stations to dams, protesting and refusing to leave their land. He visited a long-delayed $4 billion power project on Java island in August for an inauguration ceremony, even though the Japanese developers said they still had to buy 10 percent of the land they need. Jokowi had said construction could start in April.
Growth Forecasts
As of mid-July, the public works ministry, which received about 40 percent of the infrastructure budget, had only spent 20 percent of its earmarked funds.
"The problem is bureaucracy," said Adityawarman, President Director of state-owned toll road company PT Jasa Marga. "Working requires a certain method and management. You can't work on your own."
Jokowi has four years to turn around his image before elections. The government is scaling back its forecasts for growth, predicting 5.5 percent next year versus Jokowi's vision for a 7 percent expansion in his term.
"There is too much of a gap between his targets and his achievements," said Fadli Zon, deputy chairman of beaten presidential candidate Prabowo Subianto's Gerindra party. "We are a sweet opposition, maybe too sweet. If we were practicing real opposition we would be harder than this against the government."
Faisal Eky, a jobless high-school graduate who queued to see Jokowi at an election rally and voted for him, said he hadn't seen any benefit from his presidency.
"I got caught up in the excitement during the campaign, and since then there has been little to show for it," he said, sipping sweet tea after handing in his latest job application. "I think Jokowi still cares for the common man but he is clearly not superman."
Before it's here, it's on the Bloomberg Terminal.
LEARN MORE