Hedge Fund VIX Positions Double in Bet Stock Turbulence to Last
Speculators double long holdings in U.S. volatilty futures

Cost of options protection on S&P 500 jumps to all-time high
Now that turbulence has resurfaced in the stock market, the biggest traders are piling into bets that it's going to last.
Hedge funds and other large speculators just doubled wagers that U.S. equity volatility will increase, a week after pushing them to a record, according to data from the U.S. Commodity Futures Trading Commission released Sept. 4. Prices for bearish options on the Standard & Poor's 500 Index are also near an all-time high as investors give up on two years' of bets that calm will prevail in American stocks.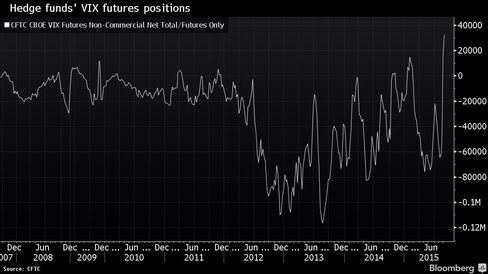 The about-face in volatility expectations comes after concern over China and the collapse in oil prices triggered the worst tumble in U.S. equities in more than two years. Investors are bracing for a potential Federal Reserve interest-rate increase just as the effects of global central bank stimulus wane, according to Chetun Patel of Mariana Capital Markets LLP.
"There was a lot of complacency," said Patel, the London-based head of strategy at Mariana, a brokerage that specializes in equity derivatives. "There are important levels being tested across some indices. There is more volatility to come with quantitative easing exhaustion."
The Chicago Board Options Exchange Volatility Index, a gauge of investor nervousness derived from options prices on the S&P 500, rose 6.7 percent last week to 27.8. That's almost twice as high as its average level in the three years since July, data compiled by Bloomberg show. The measure tumbled 8.6 percent at 9:54 a.m. in New York today.
VIX futures are a way of speculating on the level of stress in the U.S. equity market via contracts that trade virtually around the clock in Chicago. Owning one is effectively a bet U.S. shares will fall since the VIX and stocks move in the opposite direction about 80 percent of the time.
How rough has it been in the U.S. stock market lately? Consider that while shares posted their three biggest rallies of 2015 in the last eight sessions, the gains haven't been consistent enough to erase even a quarter of the ground lost since mid-August.
Speculators are walking away from what had been sure trade since 2012, namely selling volatility. Now they're buying it in a market that has been overwhelmed by anxiety over the timing of higher rates, according to UBS Group AG's Ramin Nakisa. Among the concerns is that central bank tightening will deter company buybacks, which have helped prop up earnings, he said.
"Buybacks are facilitated by a low rate environment," Nakisa, UBS's global asset-allocation strategist, said by phone from London. "If the Fed starts to raise the cost of funding, they obviously become less attractive."
Bullish positions tied to the Chicago Board Options Exchange Volatility Index nearly doubled to 32,000 contracts in the week ended Sept. 1, after jumping 131 percent in the prior week, according to CFTC data. Before that, speculators were net short VIX futures by an average of about 44,000 contracts in the last two years.
As reports signal the U.S. consumer is recovering due to wage growth, and investors realize China's economy isn't coming to a screeching halt, equity markets will rebound, according to Wayne Lin, a money manager at QS Investors, which is owned by Legg Mason Inc.
"We don't know when this risk regime will go away, but we do believe it's sentiment-driven," said New York-based Lin. "Economic and earnings growth will ultimately cause a reversal in sentiment and you should start to see equity values float up."
Wall Street strategists tracked by Bloomberg still see the S&P 500 finishing the year at 2,204, or 15 percent higher than its current level. A year-end rally of that magnitude is starting to look harder to achieve, according to Michael Shaoul, the chief executive officer of Marketfield Asset Management LLC. Bouts of summer volatility typically don't end until strategists are compelled to slash their year-end forecasts, he wrote in a note last week, citing data going back 14 years.
While strategists' influence has diminished over the years, "they do still help shape the overall mood of the market," Shaoul wrote in a note Friday. "This seems likely to get worse before it gets better."
Before it's here, it's on the Bloomberg Terminal.
LEARN MORE