Canada Election Shifts Gears After Trying Summer for Harper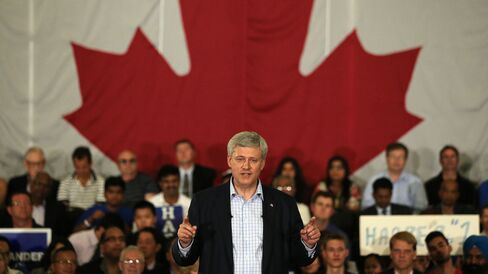 Incumbent Conservatives face weak economy and a refugee crisis

NDP and Liberal challengers stake out ground on fiscal policy
After a month of campaigning, the three-way race for Canada's Oct. 19 election has narrowed as warning signs emerge for Prime Minister Stephen Harper in his bid for a fourth consecutive term.
The incumbent Conservative has endured an explosive court case, talk of a recession and a refugee crisis that have eroded his traditional core platform planks: accountability and economic stewardship. Tom Mulcair of the leftist New Democratic Party and Justin Trudeau of the centrist Liberals, meanwhile, are each working to position themselves as the best alternative to Harper.
Polls have shown the three parties essentially tied -- though one, published Monday night by Nanos Research, suggests Harper has sunk to third place. The deadlock may break as Canada emerges from an end-of-summer long weekend, with students returning to classrooms and workers settling back into routine.
"The campaign to date has been largely a phone campaign producing little attention," said Frank Graves of Ekos Research. "All of this will change post-Labour Day as the real war for votes begins in earnest."
An Ekos poll published Friday showed Mulcair's New Democrats in the lead with 30.2 percent support, Harper's Conservatives at 29.5 percent and Trudeau's Liberals close behind at 27.7 percent. Monday's Nanos survey, conducted for CTV and The Globe and Mail, found the NDP ahead with 32.7 percent, followed by the Liberals at 30.8 percent and Harper at 26.2 percent.
The election's first month included two weeks of testimony in the criminal trial of former Conservative senator Mike Duffy that exposed the inner workings of Harper's office and a plan to cover up disputed expenses. While explosive, that testimony has largely been forgotten now, Graves said.
Economy and Refugees
It's been overshadowed by Canada's economy-- typically a Conservative strength.
Figures released Sept. 1 showed plunging oil prices sent the country into a technical recession, with gross domestic product contracting for two consecutive quarters to start the year. The Bank of Canada has cut interest rates twice this year and investors see only slim odds of a third move when policy makers meet again Wednesday. However an uptick in GDP in June and a resilient labor market allow Harper to say the economy is "back on track."
The prime minister also faced the campaign's first true curve-ball last week after an image of a dead Syrian boy washed up on a Turkish beach captured the world's attention. On Sept. 3, it was revealed the boy's uncle had sought refugee status in Canada and was refused, and that a Canadian relative had appealed directly to Harper's immigration minister for help, to no avail.
While expressing sympathy for the hundreds of thousands driven from their homes in Syria and Iraq, Harper emphasized the need for Canada to continue its involvement in the military campaign against Islamic State fighters in the region -- a key differentiation point with his opponents.
"There is no refugee-based solution alone to that problem," he said in an interview with CBC that aired Monday night. "We cannot just withdraw, allow ISIS to spread the way it was spreading a year ago and use this as a staging area for international terrorist attacks."
Harper also said he "would not serve as prime minister" if the Conservatives fail to win a plurality of seats in October. Under Canada's parliamentary system, the incumbent is given first opportunity to form government.
'Still Competitive'
After a slow start, campaigns will now shift into high gear. The NDP and Liberals will ramp up their leaders' tours and advertising efforts, and all three parties will put finishing touches on their platforms, which have yet to be released. There are also four more debates scheduled, the first of them focused on the economy set for Sept. 17 in Calgary.
Voters tuning in now haven't missed any game-changing events, according to pollster Nik Nanos.
"What they have missed is a Conservative campaign that has been off-message because of the Duffy trial and now because of the immigration issue" and a weak economy, the chairman of Nanos Research said. "The Conservatives are still competitive but the challenge is that all three of these things have likely had an impact on the ability of Conservative support to grow."
One of Mulcair's top strategists sees an opportunity for the the front-running New Democrats in this environment.
"Many Canadians have been paying attention and are formulating their opinion," NDP senior adviser Brad Lavigne said. The party will spend much of the remaining weeks campaigning in Conservative-held seats, he said -- playing offense, in other words. "Obviously we are into the sprint to the finish line."
Deficit vs. Balance
Polls show a majority of voters remain undecided -- some 40 percent of Canadians even say the three parties to be basically the same, according to an Ipsos Public Affairs poll published this weekend. In addition, Harper's negatives are on the rise and almost 60 percent of voters "definitely" want change in government, according to polling by Abacus Data.
The soft economy remains a key election issue and the parties are offering different views on how to manage it. The Liberals have pledged to run deficits for three years to fund an infrastructure spending blitz, while the Conservatives and New Democrats are promising to avoid red ink.
"People are seized with the idea of growth now as an imperative," Abacus chairman Bruce Anderson said, adding that Trudeau's plan for deficit financing seems to be resonating more than Mulcair's attempt to offer both new spending and a balanced budget. "Is there a consistency and a coherence to Thomas Mulcair's position on these issues? That may be the emerging test for him."
The 79-day campaign includes two long weekends, when pollsters say opinion can move quickly as families gather and discuss politics. Labour Day was the first, with Canada's Thanksgiving coming one week before voting day next month.
"The first part of the campaign has been a mixed bag for all the parties," Nanos said. "In my experience, I always look at the numbers after holiday weekends."
Before it's here, it's on the Bloomberg Terminal.
LEARN MORE