Tesco Said to Discuss Central and Eastern European Unit Sale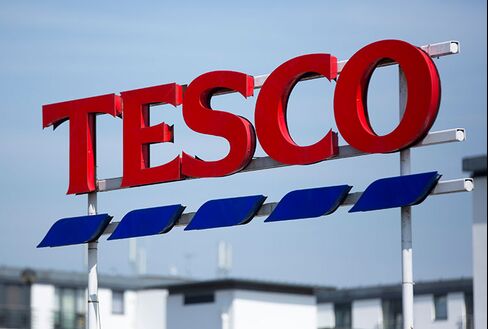 Tesco Plc, which announced the sale of its South Korean business Monday, is also considering divesting its central and eastern European operations to further reduce debt, according to three people familiar with the matter.
While the company is discussing options with advisers, no final decision has been made, said the people, who asked not to be identified as the discussions are private. The business, valued by Sanford C. Bernstein at 1.9 billion pounds ($2.9 billion), includes over 1,110 stores that generate 6.45 billion pounds of revenue. Shares of Tesco's Turkish unit rose as much as 9.3 percent.
Tesco Chief Executive Officer Dave Lewis has pledged to shore up the company's finances and regain an investment-grade credit rating. The agreement to offload its South Korean business knocks 4.23 billion pounds off total borrowings. Yet the figure represents just under one-fifth of the retailer's indebtedness. A Tesco spokesman declined to comment.
Alongside the Korea sale, Tesco is exploring options for its Dunnhumby data-analytics unit. A sale of its Thai business, which includes more than 1,700 stores, could fetch in excess of 4 billion pounds, estimates John Kershaw, an analyst at Exane BNP Paribas.
Compared with its operations in Asia, Tesco's stores in central and eastern Europe -- spanning Hungary, Poland, the Czech Republic, Slovakia and Turkey -- have less to offer potential acquirers, according to analysts. Sales have fallen for three straight years amid intense competition from low-cost retailers like Germany's Aldi.
"In its central and eastern European markets, economic conditions have been tough," Bryan Roberts, an analyst with Kantar Retail, said by phone. "Tesco has been getting an absolute kicking from the discounters."
20 Years
While the unit's faltering performance means Lewis "would love" to sell, there are no "natural acquirers," said Sanford C. Bernstein analyst Bruno Monteyne, who values the businesses at 1.9 billion pounds. The company generates 60 million pounds in annual earnings before interest and taxes in the region, according to estimates from UBS AG analyst Andrew Gwynn.
Tesco's presence in central Europe dates back 20 years. The company entered Hungary in 1995 and has grown to become the country's third-largest employer. In 1996, the company opened stores in Poland, now its largest market in the region, as well as in the Czech Republic and Slovakia. Turkish operations began in 2003.
Shares in Tesco Kipa, the company's Turkish unit, rose 6.5 percent to 2.3 liras at 4:05 p.m. in Istanbul.
Tesco merged the management teams of its central and eastern European businesses in March, a move that Kantar Retail said could be a precursor to an eventual sale.
Before it's here, it's on the Bloomberg Terminal.
LEARN MORE