Pine River, Segantii Hedge Funds Rise in August Over Peers
BosValen, Zeal hedge funds narrowed losses in August

Funds posted gains or trimmed losses by cutting China exposure
Asia-focused hedge funds run by Pine River Capital Management, Segantii Capital Management and Tairen Capital were among those that posted gains in August, when many peers were stung by losses as the region's benchmark stock index had its sharpest decline in more than three years.
The $1.2 billion Pine River China Fund returned 1.2 percent in August, while the Segantii Asia-Pacific Equity Multi-strategy Fund rose about 0.8 percent, according to estimates from the firms. Tairen China Fund gained 3.7 percent last month, said a person with knowledge of the matter who asked to remain anonymous.
Some Asia hedge funds were able to avert large declines as they reduced risky positions and got out of China-focused trades before a rout in the stock market intensified. The MSCI Asia-Pacific Index plummeted 8.5 percent last month, including a 4.3 percent decline on Aug. 24, amid a global correction triggered by concerns that China's growth is slowing.
"The alarm bells were sounded early, in the end of June and the start of July, over China," said Mohammad Hassan, an analyst with Eurekahedge Pte in Singapore. "Asian managers who had realized steep losses in July adopted a more cautious approach going into August."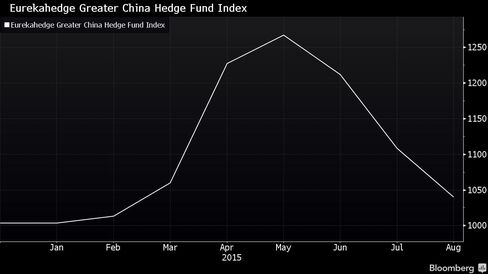 Hedge funds around the world were hurt last month amid rising volatility across markets. In the U.S., Ray Dalio's Bridgewater Associates and David Einhorn's Greenlight Capital were among managers with August declines. Winton Capital Management and Cantab Capital Partners, two U.K. computer-driven hedge funds, also fell.
Funds Slump
Greater China-focused hedge funds lost 6.2 percent in August, capping three consecutive monthly losses unseen since July 2012, according to an index compiled by Eurekahedge, with more than 75 percent of funds yet to report August numbers to the data provider. Eurekahedge had earlier estimated that China hedge funds plunged as much as 10 percent in August.
The Pine River China Fund's August return brought this year's gain to 8.2 percent and ended a two-month losing streak, according to an investor update. The multistrategy fund that trades stocks, convertible bonds and credit is helmed by Hong Kong-based Dan Li and made 30 percent for investors in 2014.
The more than $1.2 billion Segantii Asia-Pacific Equity Multi-strategy Fund extended this year's gain to just above 31 percent after rising in August, according to a performance estimate sent to investors on Sept. 4. The fund, led by Hong Kong-based Chief Investment Officer Simon Sadler, a former head of equity trading for HSBC Holdings Plc's regional securities unit, trades Asian equities and equity-linked securities with a focus on North Asia.
Tairen, Factorial
The Tairen China Fund, which has about $400 million in assets, lifted this year's return to about 30 percent, according to the person with knowledge of the matter.
The Factorial Master Fund, run by Hong Kong-based former DKR Oasis Management investor Barun Agarwal, climbed 0.65 percent, adding to a 7 percent gain in July and extending this year's return to nearly 19 percent, said a person with knowledge of the matter who spoke on condition of anonymity. North Asia, including Hong Kong and China, was the main contributor to the performance in the last two months.
The fund, which has about $100 million of assets, invests in stocks, credit and convertible bonds of Asian and Middle Eastern companies. It made money from corporate events such mergers, share buybacks, placements, and profited from valuation differences between related securities and from on bets on rising and falling stocks, the person said.
Narrower Losses
Funds from BosValen Asset Management and Zeal Asset Management had narrower losses versus benchmarks, even as they declined for the month, the firms said.
The $226 million Zeal China Fund lost 4.6 percent in August and was up 0.3 percent this year, said Franco Ngan, chief executive officer of Hong Kong-based Zeal, in an e-mail. That compared to a 12 percent loss in July.
Nine Masts Capital, a Hong Kong-based fund which manages more than $750 million of assets, slid 0.5 percent in August, trimming this year's advance to 13 percent, said a person with knowledge of the matter who spoke on condition of anonymity. The fund is led by former traders from Deutsche Bank AG's Saba proprietary trading team and DKR Oasis, including Wang Bing.
BosValen Asset Management's Asia hedge fund, which oversees just under $400 million of assets, lost 3.5 percent in August, said Chief Investment Officer Ken Xu, a former managing director at SAC Capital Advisors and Och-Ziff Capital Management Group LLC.
Spokespeople for Pine River, Segantii, Tairen, Nine Masts and Factorial Management declined to comment.
Cutting Exposure
Some China-focused managers fared better by increasing the amount of stocks they bet against, putting on active wagers against smaller stocks while building bets on larger companies that have performed better or trading more frequently, said Theodore Shou, Hong Kong-based international chief investment officer of South African fund of hedge funds Skybound Capital.
Some funds that trade across Asia outperformed by cutting net exposure, the difference between long and short wagers, in the past weeks and shifting investments to Indian and Japanese companies, Shou added.
Since June, BosValen has gradually cut the fund's gross exposure by as much as 40 percent from its normal level, mainly by scaling back on Greater China stocks, said Xu in a phone interview. Greater China companies, including those with American depository receipts and Hong Kong or China-listed shares, typically account for 40 percent to 70 percent of its gross exposure.
'Extreme Volatility'
The cuts were made "because of extreme volatility in Asian and global markets, also uncertainties in currencies and economic policies," Xu said.
Some industries and companies still have long-term structural growth opportunities even in an uncertain economic environment, he added.
"We're prepared for opportunities to invest in these companies with more attractive valuations given market selloffs," he said.
Some funds suffered bigger setbacks in August. The $2 billion Greenwoods Golden China Fund, one of the largest hedge funds focused on the country, lost 8.9 percent in August, eroding this year's gain to 6.6 percent, according to an investor update.
Before it's here, it's on the Bloomberg Terminal.
LEARN MORE