Glencore Investors Force Glasenberg to Prepare for Doomsday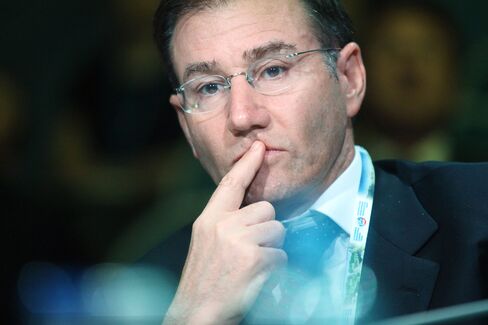 Change of strategy came after meetings with shareholders

Dividend shelved; $2.5 billion sale of shares announced
After a breakfast meeting with a small group of hedge funds in New York last week, Glencore Plc Chief Executive Officer Ivan Glasenberg concluded that investors could no longer stomach his famously bullish outlook.
The meeting capped two weeks of discussions with shareholders from North America to Europe after the Swiss miner and trader reported a 56 percent decline in profit. His plan to trim Glencore's $30 billion debt by 10 percent by the end of next year wasn't enough to halt a plunge in the company's market value, which has more than halved to about 17 billion pounds ($26 billion) this year. On Monday, the company announced a strategy to reduce debt much more quickly.
"This is definitely the first time you get the impression that shareholders are the most important voice in the room versus management," Ben Davis, a mining analyst at Liberum Capital Ltd., said by phone from London. "Until now, a lot of the market has seen Ivan as the smartest guy in the room."
The U-turn was unprecedented for the 58-year-old South African billionaire, who has run Glencore almost single-handedly from the sleepy lakeside Swiss city of Zug for a decade and a half.
Glasenberg, Glencore's second-largest shareholder, was uncharacteristically downbeat during a conference call with analysts. The new plan envisions cutting $10 billion of debt through the end of next year, shelving dividends and selling both new shares and assets.
The fresh approach was triggered by the almost-universal bearishness on commodity prices that investors expressed in talks, surprising Glencore's management, a person familiar with the matter said, asking not to be identified because the meetings were private.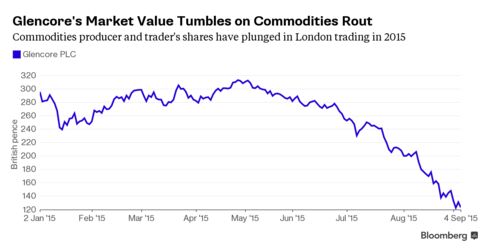 Bank of America Merrill Lynch analysts wrote last week that Glencore may have "limited equity value" under a "doom and gloom scenario" for commodities.
Chief Financial Officer Steve Kalmin told analysts Monday that it was clear investors were running "doomsday scenarios" on Glencore's business. The company's new debt reduction strategy was designed to address "any balance sheet concerns in some of these more drastic downside scenarios that some people were articulating however fantasy-like."
Prices of raw materials on the Bloomberg Commodity Index including copper and zinc plunged to the lowest since the financial crisis last month as supplies outstripped demand.
"After listening to shareholders we decided to make this balance sheet bulletproof," Glasenberg said on the call. "Do we ourselves believe commodity prices will stay at those indicated levels for a sustained period? No."
Glasenberg's decision also reflects the market turmoil that's embroiled the company in recent weeks and months. Glencore shares posted their biggest weekly decline on record on Friday and its credit default swaps reached a three-year high.
The shares gained 7 percent on the day the debt plan was announced and rose a further 4.4 percent to 137.60 in London on Tuesday.
'Very Palatable'
Less than three weeks ago, CFO Kalmin said he was confident Glencore could "walk and chew gum" at the same time, meaning it could continue to pay dividends and protect its credit rating. Standard & Poor's cut its outlook on Glencore's BBB level to negative from stable last week and said China's slowing economy will continue to weigh on copper and aluminum prices, which are near six-year lows.
"The key thing here was to put any of those scenarios to bed, get ahead of the curve, put this business and balance sheet in the best shape it can possibly be in, in a way that's very palatable to shareholders," Kalmin said in a phone interview on Monday.
Through a series of deals over the last decade, Glasenberg -- an accountant by training and once an Olympic-standard competitive walker -- has transformed Glencore from a low-profile commodity-trading house into a diversified global mining group. His largest deal so far, the $29 billion all-share acquisition of Xstrata in 2012, turned Glencore into the world's fourth-largest miner at the time.
Glasenberg learned the commodities trade at Marc Rich, the eponymous firm founded in 1974 by the former U.S. fugitive who was celebrated for inventing the modern oil market. Rich would later be pardoned by on President Bill Clinton's final day in office in 2001. Glasenberg was part of a $1.2 billion management buyout from Rich in 1994 which saw the company renamed Glencore.
Glencore shares have plunged 55 percent this year, making it the worst performer in the FTSE 100 Index. Its recent plight is in stark contrast to the fervor that surrounded its $10 billion initial public offering in 2011.
The stock has tumbled 75 percent since then, hurting the value of holdings for some of the world's biggest investors, including Qatar's sovereign wealth fund and BlackRock Inc.
"They've proven to be as fallible in these markets as everyone else has been," Clive Burstow, who helps manage $44 billion at Baring Asset Management in London including Glencore shares, said by phone.
Peter Grauer, the chairman of Bloomberg LP, the parent of Bloomberg News, is a senior independent non-executive director at Glencore.
Before it's here, it's on the Bloomberg Terminal.
LEARN MORE