Dubai Stocks Drop With Mideast Markets on Fed Rate-Increase Bets
Dubai stocks declined with most Middle Eastern equities after the U.S. jobless rate dropped to a level the Federal Reserve considers to be full employment, bolstering the case for an interest-rate increase and depressing demand for riskier assets. Saudi equities rose.
The DFM General Index retreated 0.8 percent to close at 3,542.14, following six weeks of losses, the longest streak in almost four years. Emaar Properties PJSC, the real estate developer with the biggest weighting on the gauge, led the descent with a 1.9 percent drop. Stocks in Saudi Arabia reversed losses after the desert kingdom's central bank governor said the nation will stick with its currency peg.
Equities across emerging markets fell last week after U.S. Labor Department data showed unemployment in the world's largest economy fell to 5.1 percent, the lowest since April 2008. The MSCI Emerging Markets Index slumped 3.9 percent in the five days through Sept. 4, its 15th decline in the 19 weeks since April. Monetary policies in the six-nation Gulf Cooperation Council are additionally influenced by Fed data because most currencies in the region are pegged to the dollar.
"A Fed rate hike is going to add to selling pressure and volatility globally, and Mideast markets always follow," Hisham Khairy, the Dubai-based head of institutional trade at Mena Corp. Financial Services LLC, the emirate's biggest brokerage, said by phone. "The regional selloff will continue, until global volatility decreases and oil finds a bottom."
Brent crude retreated 2.1 percent on Friday, capping a second consecutive week of higher-than average price swings. The GCC is home to about 30 percent of the world's proven oil reserves and relies on income from crude to fund government spending.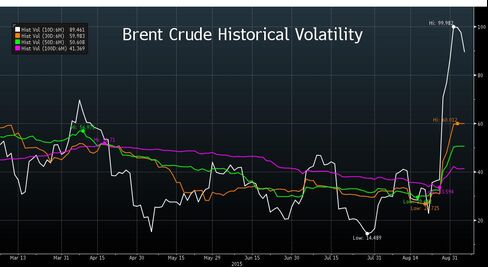 The United Arab Emirates is in a three-day mourning period after 45 soldiers were killed in a missile attack, the worst setback to a Gulf coalition fighting Houthi rebels in Yemen since their military campaign began in March. The Saudi-led forces bombed Yemeni targets on Saturday in response.
Dubai's trading volume was less than a third of its 12-month daily average, and traders in Abu Dhabi exchanged 90 million shares, compared with an average 130 million.
Etisalat Rises
Abu Dhabi's ADX General Index gained 0.7 percent, bolstered by Emirates Telecommunications Corp.'s 4.3 percent jump as traders exchanged almost three times the three-month daily average number of shares. The company, known as Etisalat, will allow foreigners to trade its stock directly for the first time on Sept. 15.
"A lot of investors are waiting for this stock to open to foreign ownership" said Tariq Qaqish, who overseas $150 million as the head of asset management at Dubai-based Al Mal Capital PSC. "An inclusion in the MSCI index will be key for the share price to go up since there will be a sudden influx of cash."
The government owns 60 percent of Etisalat through the Emirates Investment Authority, its only sovereign wealth fund, and has no intention of reducing its stake for now, the phone operator said in June.
Qatar's QE Index lost 0.6 percent, Kuwait's stock gauge fell 1.6 percent and Oman's MSM30 Index slipped 0.1 percent. Egypt's EGX30 fell 0.3 percent.
Saudi Arabia's Tadawul All Share Index rose 0.6 percent after central bank Governor Fahad Al-Mubarak said the riyal will remain pegged to the dollar as long as oil underpins the economy, dismissing speculation that the country's currency system is coming under pressure. One-year forward contracts for the Saudi riyal, an indicator of where investors expect it to trade, were near the highest since 2003.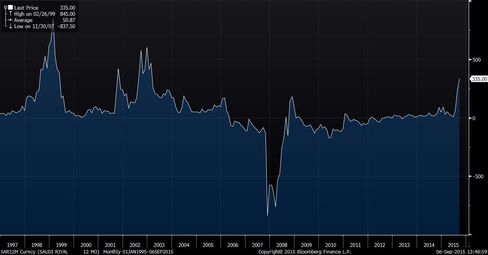 The governor also said he expects gross domestic product to expand more than 3 percent this year, exceeding the 2.8 percent median estimate in a Bloomberg survey.
Israeli Gas
Israeli stocks were little changed. Gas and oil companies rose as parliament prepares to debate the country's energy policy framework on Monday, according to Sagie Poznerson, the Tel Aviv-based head of trading at Leader Capital.
Israel's TA-25 Index added 0.1 percent led by Bank Leumi Le-Israel's 1.8 percent increase. The TA-Oil & Gas Index climbed 1.3 percent, with Ratio Oil Exploration 1992 LP's 4.7 percent advance contributing the most to the gain.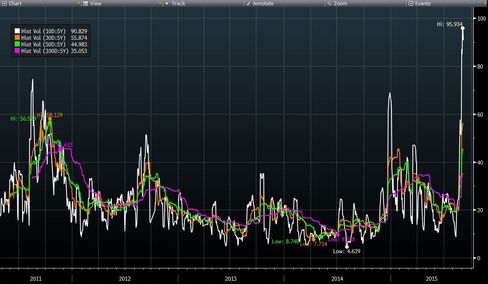 The volatility on the price of Israeli gas explorers is near the highest in four years after a discovery of natural gas in Egyptian shores last week added to the uncertainty of the ongoing efforts by politicians to resolve the industry's regulatory dispute.
Before it's here, it's on the Bloomberg Terminal.
LEARN MORE