Syria's President Assad Accepts Early Parliamentary Elections, Putin Says
Putin says Assad will talk to `healthy opposition' in Syria

Russia considering `various options' for Syria intervention
Syrian President Bashar al-Assad has agreed to early parliamentary elections and to share some power with his opponents, a concession that may facilitate a broader international coalition against Islamic State, Russian President Vladimir Putin said.
Russia would consider participating in the coalition and the Russian president has already discussed the issue with U.S. President Barack Obama, Turkish President Recep Tayyip Erdogan and Egyptian President Abdel-Fattah El-Sisi, Putin told reporters in Vladivostok on Friday. Russia has been pushing for a wider campaign against Islamic State that would include Assad, something the U.S. and Europe have opposed.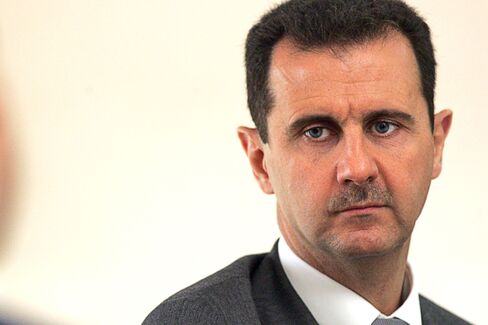 "There is a general understanding that joint efforts in the fight against terrorism should go hand by hand with the political process in Syria," Putin said. Assad "agrees to this," and has also agreed to early parliamentary elections and to include "healthy opposition" in the government, said Putin, a key ally of the Syrian president. Four Syrian lawmakers couldn't be immediately reached for comment.
Syria has been locked in civil war since 2011 with an array of forces trying to overthrow Assad. The conflict has become the Middle East's biggest humanitarian and economic disaster of the past 25 years, displacing at least 10 million people and facilitating the rise of the Islamic State militant group, which now controls a huge swath of territory in Syria and Iraq.
"It's too early" to talk about Russian military action in Syria, though "we are considering various options," Putin said. Russia is actively helping the Assad government with weapons and military training, he said.
Putin's comments came after reports this week that Russia is ramping up its involvement in Syria. Russian troops are fighting with Assad's forces and images of what appeared to be Russian planes and drones in the skies over Syria have been published, the U.K.'s The Telegraph newspaper reported on Sept. 2. Russia's Defence Ministry has denied any direct military intervention.
Russia isn't currently considering sending warplanes to fight in Syria, though it will hold "consultations" with Syria's government and regional powers, Putin said.
Russia, still under Western sanctions over the standoff in Ukraine, has been at the center of a flurry of diplomatic activity focused on efforts to resolve the Syrian conflict. It has held separate talks with members of the Syrian government and the opposition, as well as with the U.S. and top Iranian and Arab officials including Saudi Arabia's foreign minister, the crown prince of Abu Dhabi and the king of Jordan.
Putin's comments indicate he's not ready to accept U.S. and European demands for Assad's departure at this stage, said Irina Zvyagelskaya, a senior fellow at the Russian Academy of Sciences' Institute of Oriental Studies in Moscow. Even so, Russia isn't committed to preserving his rule indefinitely, she said.
"It's a signal that we won't stick to Assad at all costs, but we consider the most important thing is to preserve Syria as a state," Zvyagelskaya said. "Otherwise you risk total chaos."
A United Nations plan to resolve the crisis in Syria calls for Assad to hold a largely ceremonial role after power is transferred to a transitional government that includes the opposition, the London-based Al-Hayat newspaper reported this week. Syria's National Reconciliation Minister Ali Haidar told state-run TV earlier this month that there is a "big distance" between Russian diplomatic efforts and the UN plan.
Holding early parliamentary elections now in Syria isn't feasible because Assad only controls part of the country, and a vote would serve only to shore up his rule in those areas, said Sami Nader, head of the Beirut-based Levant Institute for Strategic Affairs.
"How can you organize a fair election in a country that's shattered by war, with no security, fair electoral law or freedoms?" he said. Any elections held now "will allow only those living in regime-held areas and opposition figures tolerated by the regime to run," he said.
Before it's here, it's on the Bloomberg Terminal.
LEARN MORE