South Korea President Park's Approval Highest in Year-and-a-Half
Park's performance rating jumps to 54% from 34% in two weeks

Gives her boost to push reforms at mid-point of tenure
South Korean President Park Geun Hye's approval rating rose to its highest level in a year and a half, giving her a boost to carry out economic reforms at the mid-point of her presidency.
Park's rating rose to 54 percent this week after reaching a yearly high of 49 percent last week, Gallup Korea said in an e-mail. The measure surpassed the 50 percent mark for the first time since the Sewol sinking that killed more than 300 people in April last year.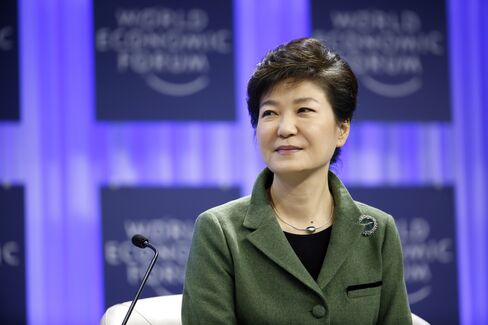 Park last week defused a military standoff with North Korea and this week reached an agreement with Chinese President Xi Jinping in Beijing that their nations would seek a three-way summit with Japan by November. Her approval rating was at 34 percent when the standoff started.
"She's riding on her strength -- diplomacy," Hong Sung Gul, a professor of policy studies at Seoul's Kookmin University, said by phone. "This sets a positive environment for her to push her reforms and deal with other issues at home."
South Korea's gross domestic product rose in the second quarter at the slowest pace in two years and its exports dropped in August by the most since 2009, data showed this week. The country is getting squeezed as growth in China-- the biggest market for its goods -- cools to the slowest pace since 1990 and drags on global expansion.
Before traveling to Beijing, Park said Tuesday that her government faces its "last chance" for revitalizing the economy and implementing reforms in sectors ranging from finance to labor. The president of South Korea is limited to a single, five-year term.
Before it's here, it's on the Bloomberg Terminal.
LEARN MORE