China Stocks Sink in Hong Kong to Two-Year Low on Mainland Risks
China's stocks slumped in Hong Kong to a two-year low amid speculation mainland shares will decline when trading resumes on Monday after holidays.
The Hang Seng China Enterprises Index lost 1.4 percent to 9,169.59 at the close as developer China Vanke Co. and bad-loan manager China Cinda Asset Management Co. led declines. The measure tumbled 6 percent this week to its lowest level since July 2013. Hong Kong financial markets were shut on Thursday for a holiday. The Hang Seng Index dropped 0.5 percent.
The gauge of Chinese stocks in Hong Kong has tumbled 23 percent this year, the worst performing index in the world after Peru, as a slowdown in China's economy deepened and the boom in mainland equities turned to bust. Investors are looking to Monday's reopening of Chinese bourses amid speculation the government intervened to shore up equities this week before Thursday's military parade.
"The slowdown in China's economy is always on the back of people's minds, it's the big worry," said Louis Tse, a Hong Kong-based director at VC Brokerage Ltd. Mainland shares are likely to slide on Monday as the government shifts its focus from supporting the market to bolstering the economy, he said.
The Hang Seng China Enterprises gauge trades at 6.5 times reported earnings, the lowest level in more than a decade. China Vanke tumbled 5.1 percent Friday, while China Cinda slumped 4.5 percent. PetroChina Co. fell 3.7 percent to its lowest level since March 2009.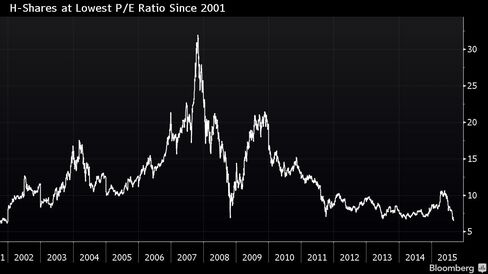 Shares on mainland exchanges are the most expensive relative to their identical counterparts in Hong Kong in two months, according to the Hang Seng China AH Premium Index. The gauge, which gives a bigger weight to larger companies, shows the mainland market valued at a 49 percent premium.
Investors are also awaiting the monthly U.S. jobs report Friday, the last major data point before the Federal Reserve meets to discuss the first increase in interest rates in nearly a decade. Traders see a 56.5 percent chance that the Fed will raise borrowing costs by December, a decision that would affect interest rates in Hong Kong because the city's currency is pegged to the dollar.
"Even if there is no interest rate hike this month, there's a chance it will
happen before end of this year," said Castor Pang, head of research at Core-Pacific Yamaichi Hong Kong. "The Hong Kong market should have some pull back."
Before it's here, it's on the Bloomberg Terminal.
LEARN MORE