Only one thing matters to global investors today: The U.S. job report. It's the final major piece of economic data before the Federal Reserve announces its latest interest rate decision on Sept. 17. Asian stocks resumed their slide after a one-day bounce which was prompted by a two-day Chinese holiday to commemorate the end of World War II. The MSCI Asia Pacific Index fell as much a 1.5 percent, its fourth drop in five days. The gauge is on track for its seventh weekly decline, the longest losing stretch since June 2011.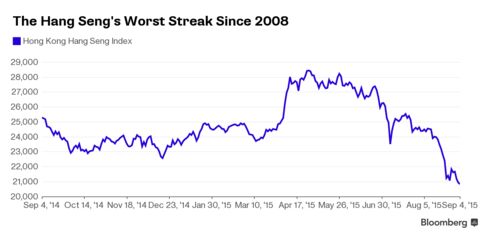 Hong Kong's Hang Seng Index fell for a third session following a one-day holiday. The equity benchmark also sank for a seventh week, the worst streak since 2008. Anxieties persist about China's economic malaise and possible U.S. interest rate hikes. The Hang Seng is the worst-performing developed stock market this quarter. It's now trading 27 percent below April's 2007 high and closed Friday at its lowest level in two years.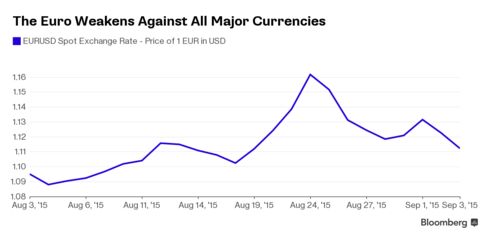 For the euro, it's a case of the morning after the day before. The 19-nation common currency fell against all 16 of its major peers on Thursday after the European Central Bank adjusted its quantitative easing program, cut its inflation and growth forecasts and signaled it may expand stimulus. A strong U.S. jobs report today may also highlight the diverging interest rate paths of the two regions. The euro is heading for its first two-week drop against the dollar since the start of July.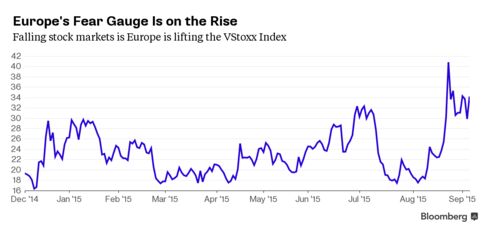 Europe's gauge of fear crept higher as the region's stocks sank for the 3rd day in five. The VStoxx Index, a gauge of European options prices, rose 11 percent, which is the biggest increase since August 24th. On that day volatility soared 35 percent, the most in seven years, as the Stoxx Europe 600 Index slumped 5 percent. These levels of stock volatility haven't been seen since 2011.
Mark Barton is a presenter on Bloomberg TV. Follow him on Twitter @markbartontv
Before it's here, it's on the Bloomberg Terminal.
LEARN MORE