Brazil's Real Falls Most Since May as Fiscal Concern Prevails
Levy stays in office after speculation he would resign

Government says finance chief `will continue to help Brazil'
Brazil's real tumbled the most since May to a fresh 12-year low as assurances that Finance Minister Joaquim Levy would remain in his post failed to quash concern the country will lose its investment-grade rating.
The currency swung between gains and losses Thursday before President Dilma Rousseff's chief of staff said the architect of efforts to cut deficits "will continue to help Brazil." The real led global weekly declines after the administration presented a proposal Monday to Congress forecasting that the nation will suffer this year its worst recession in a quarter-century and post a deficit before interest payments in 2016.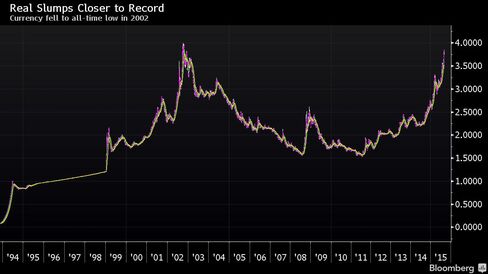 The real slid 2.7 percent to 3.8434 per dollar, also falling after O Globo reported that the government ruled out using international reserves to bolster the currency. The real extended its loss since Aug. 28 to 6.8 percent, the biggest weekly slide since March and the worst performance among 31 major currencies tracked by Bloomberg. A further drop of 4 percent would take it past the all-time low of 4.0040 per dollar reached in 2002.
"Market skepticism toward the fiscal adjustment program is and will remain high," Mike Moran, the head of economic research for the Americas at Standard Chartered Bank, said from New York.
Chief of Staff Aloizio Mercadante commented Thursday after a meeting at the presidential palace with Rousseff, Levy and Budget Minister Nelson Barbosa. His statement capped a day of volatility in the currency market as investors speculated that Levy would resign.
G-20 Trip
Although the finance chief canceled his trip to a meeting of the Group of 20 nations, his press office said later that he would fly to the gathering in Turkey after all.
Rousseff told reporters earlier this week that Levy isn't isolated even after several of his proposals aimed at avoiding a junk credit rating were blocked.
The real also fell as O Globo reported that the government isn't considering the use of international reserves to support the currency through U.S. dollar auctions. Brazil had $370 billion in reserves as of Sept. 2, data compiled by Bloomberg show. The central bank extended the maturity Friday on 9,450 foreign-exchange swap contracts supporting the currency.
Swap rates on the contract maturing in January 2017, a gauge of expectations for changes in Brazil's interest rates, increased 0.33 percentage point to 15.04 percent and were up 1.09 percentage points this week.
The central bank held the country's benchmark lending rate Wednesday at an eight-year high of 14.25 percent after seven straight increases totaling 3.25 percentage points. Policy makers reiterated a pledge to leave borrowing costs at the current level for a prolonged period to bring inflation down to 4.5 percent by the end of 2016.
Before it's here, it's on the Bloomberg Terminal.
LEARN MORE