Lindt CEO Remains Hungry for Chocolate Acquisitions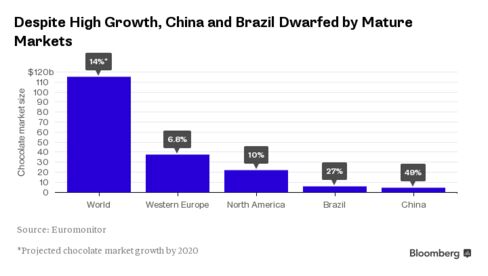 Lindt & Spruengli AG is seeking more acquisitions after buying Russell Stover Candies Inc., and the Swiss maker of premium chocolates is taking advantage of plummeting currencies to expand in Brazil and Russia.
Future deals will be smaller than the 1.5 billion Swiss-franc ($1.6 billion) Russell Stover acquisition last year, Chief Executive Officer Ernst Tanner said in an interview. He declined to name targets or specify where Lindt is looking, though Tanner said the Kilchberg, Switzerland-based company sees Brazil, Russia and Japan as attractive markets.
"We still have firepower for a deal," Tanner said. "We know every premium chocolate company in the world and we know which ones we would buy and which ones we would want to walk away from."
Buying Russell Stover of the U.S. catapulted Lindt past Nestle SA to third place in North America's chocolate market, behind Hershey Co. and Mars Inc. Now, with emerging-market economies and currencies slumping, the company considers it has an opportunity to invest for the long term.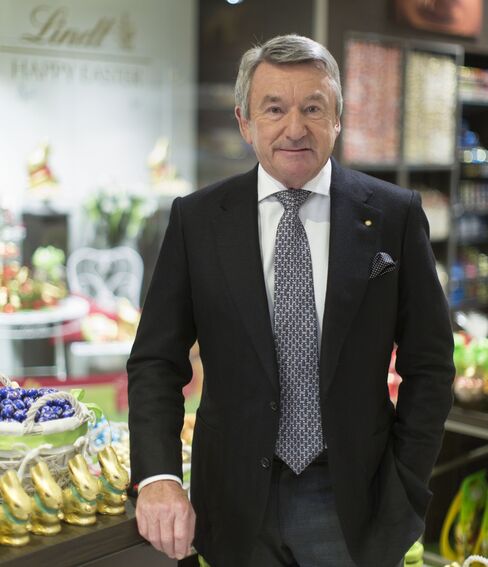 Lindt shares rose 1.1 percent to 65,725 francs as of 11:47 a.m. in Zurich, giving the company a market value of 14.3 billion francs.
At least half of the company's store openings this year will be in Brazil, where the economy is contracting, the real has plunged and a corruption scandal threatens to unseat President Dilma Rousseff.
Brazil Prospects
"Rousseff says the recession will stay there for six to 12 months," the 69-year-old CEO said. "But I think the Brazilian market is very important, a large chocolate market, and with our quality we can go much further."
The maker of foil-wrapped Lindt Easter bunnies plans to have about 50 Brazilian shops within three to five years. The company entered a joint venture with CRM Group, a local premium-chocolate producer, last year as it seeks to establish the Lindt brand in the world's sixth-biggest chocolate market.
Tanner said he doesn't see the need to produce in Brazil yet, instead planning to continue selling Swiss-made chocolate there.
"Before the real came down, it was an extremely high-priced market," Tanner said. "Competition was very low and the quality was just OK. Together with CRM, we want to establish Lindt in a stronger way."
The devaluation of the real, which on average has been 20 percent lower against the franc this year, is making it cheaper to expand in Brazil, said Patrik Schwendimann, an analyst at Zuercher Kantonalbank in Zurich. That's also true for Russia, where the currency is down by about a third.
"In Brazil, they have a double advantage now, as they have a door-opener with the joint venture and it's become cheaper to invest in," Schwendimann said.
China, which Lindt entered in 2012, will remain on the back burner for as long as 10 years because the premium chocolate market there remains too small, Tanner said. China devalued the yuan on Aug. 11, sparking concern that the economy may be in worse shape than previously estimated. The country consumes 3 percent of the world's chocolate, according to Euromonitor.
"We're not the ones who can establish a chocolate market," Tanner said. "I'd rather concentrate on where the market is than risk everything in China where there's no chocolate market."
Before it's here, it's on the Bloomberg Terminal.
LEARN MORE