The Future of India's Dairy Industry Lies With Bull Semen
More and better cows needed to get yields near world averages

World's top dairy consumer may become net importer in 5 years
The fate of India's milk revolution is packed inside 3-liter, nitrogen-cooled tanks like the one Rajeev Rana carries around rural Uttar Pradesh on the back of his motorbike.
Inside Rana's canister are tubes of frozen bull semen the government is distributing to farmers. It's part of a plan to accelerate expansion of a dairy herd that soon will be unable to produce enough in the world's biggest milk-consuming country. With demand rising faster than domestic supply, India will become a net importer by 2020, ending decades of self-sufficiency, according to agricultural-services provider Cargill Inc.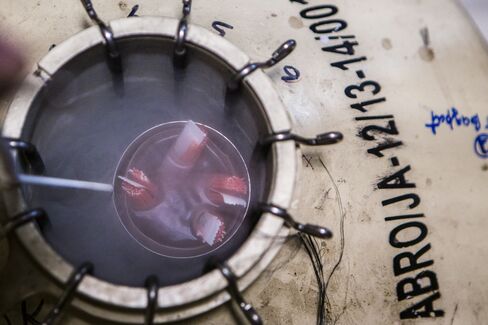 To cap overseas purchases, India is spending 22.42 billion rupees ($338 million) to improve yields that are a quarter of what U.S. cows produce. It's a tall order for a nation where 80 percent of supply comes from families with just two or three animals and few farmers have access to bank loans. Part of the National Dairy Plan includes importing Holstein Friesian bulls for breeding and supporting veterinary workers like Rana who can artificially inseminate as many as 30 animals a day.
"We are not able to meet demand," said Charan Singh, 75, who sells milk from two cows on his four-acre farm about 80 kilometers (50 miles) north of New Delhi to supplement income from fodder and sugar cane. "The buyer says whatever quantity we deliver is less than his daily requirement."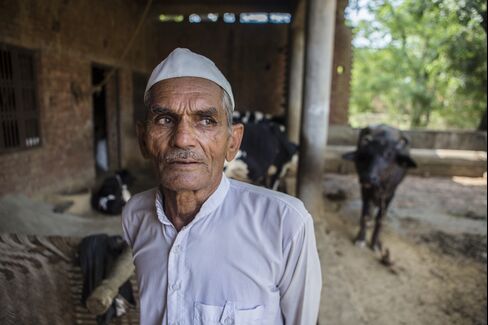 High-Yielding Animals
On Aug. 29, Singh had Rana inseminate a female buffalo he owns that will eventually produce milk. Similar procedures were performed previously on his two cows. "I want high-yielding animals," Singh said while sitting on a charpoy bench and smoking a shisha water pipe outside his home in the village of Dhanaura Tikri. "Elite, disease-free bulls are not easily available for mating."
Milk products have become a staple for India's 1.3 billion people, who are eating more yogurt, cheese, butter and ice cream as an expanding economy boosts incomes. About 20 percent of total food spending by urban households went to dairy products in the year ended March 31, 2012, compared with 17 percent in 1987-88, government data show. With the United Nations forecasting India becoming the most-populous nation by 2022, surpassing China, consumption will keep growing.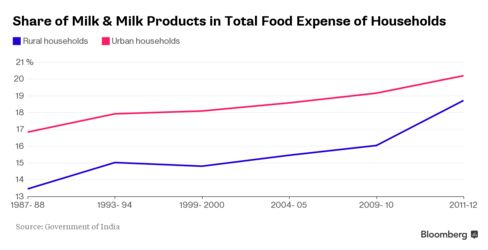 "We are a large country, and the moment we enter the world market, we tend to push up prices," said T. Nanda Kumar, a former Indian agriculture secretary who last year became chairman of the National Dairy Development Board, which helped make the country self-sufficient in milk by boosting output with its Operation Flood program starting in 1970. Importing milk "should not be part of our policy and should be an exception," he said.
Unlike major producers including the U.S., Europe and China, most of India's milk comes from water buffalo, which has more fat and protein. Because so much supply is in the hands of small farmers who lack the resources and skills of big dairy farms, the average daily yield in India is 2.5 kilograms to 7.15 kilograms for cattle and 5.15 kilos for buffalo. In the U.S. last year, cows on average produced 28 kilos a day, government data show.
Even with low productivity, government investment in agriculture that began with the Green Revolution decades ago has helped milk production more than double to 137.7 million metric tons in 2013-14 from 60.6 million in 1993-94, government data show. The trouble is, demand is growing even faster and will exceed domestic output by about 40 million tons in 2020, requiring imports equal to about 20 percent of consumption, according to Cargill.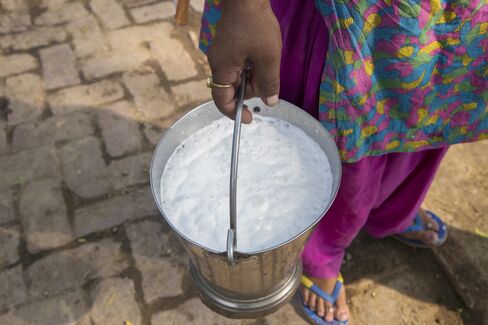 Low Productivity
"One key challenge is low productivity" per animal, and most farmers "have a lack of awareness" about "breeding, nutrition and management of dairy farms", said Prashant Shinde, the dairy head at Cargill Feed & Nutrition India in Gurgaon.
The government's key strategy for boosting output is an insemination program targeting farms with two to three animals, which account for 70 percent to 80 percent of India's milk production, according to Rabobank International. By comparison, the U.S. estimates about half of its dairy farms have 1,000 cows or more.
"The increase in milk production will come from genetic import and selection of elite animals," the dairy board's Nanda Kumar said. "We should be able to easily meet the rising demand."
Rabobank isn't so sure. Expanding the national herd essentially one cow at a time "is a major challenge," said Shiva Mudgil, an analyst with the bank in Mumbai. Even with some consolidation expected over the next five years, "small and marginal farmers will continue to stay relevant" to India's milk supply, Mudgil said.
Over the next two years, India will need to produce 100 million doses of high-quality, disease-free semen annually, up from 90 million now, according to the government. Holstein Friesian bulls imported from Germany are also set to start producing semen soon.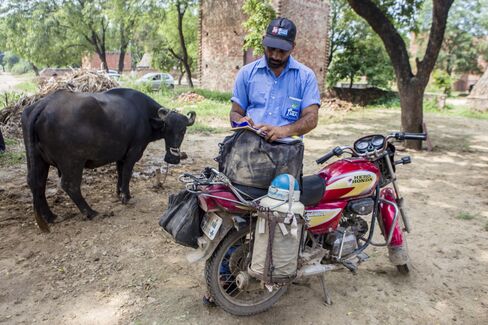 Insemination
With many rural farmers hesitant to make the trek with their animals to veterinary centers, the government is going out to them. Posters have been put up in villages appealing to producers to call workers like Rana, who received two months' training at the National Dairy Research Institute and earns 60 rupees (91 U.S. cents) per artificial insemination.
Nepal Singh, 60, had his two buffaloes and a cow artificially inseminated, and he plans to buy another high-yielding buffalo, preferably born from the insemination process. He rears the animals to supplement the income he earns from growing cane and fodder on four acres in Dhanaura Tikri.
"I want my next generation of cattle to give more milk," Singh said. "That's why I called Rana."
Before it's here, it's on the Bloomberg Terminal.
LEARN MORE