Here's What Wall Street Is Saying About the Latest ECB Decision
Extra stimulus on the way?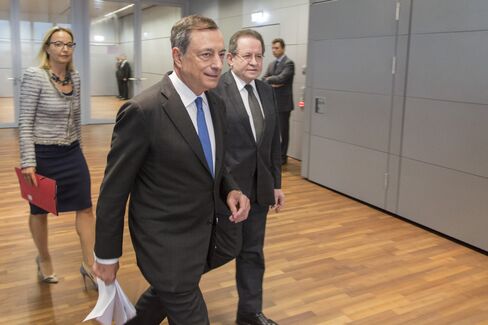 There may not have been glitter this time around, but there was still some excitement to be had at the latest European Central Bank press conference.
At Thursday's meeting, the ECB took a dovish tone, signaling it is able to increase stimulus to counter the risk of slower growth and inflation. As reported earlier by Bloomberg, policymakers lowered economic forecasts and raised the limit on bond purchases under their quantitative-easing program to 33 percent per issue from 25 percent previously.
Not only did the prospect of extra stimulus send European markets up and the euro lower; it also prompted a fresh flurry of research from analysts across Wall Street. Here's a quick roundup.
Barclays's Philippe Gudin and Antonio Garcia Pascual
While clearly stated that this is aimed at a smooth implementation of the current asset purchase programme, we also interpret this decision as a signal that additional QE measures could be deployed to lean against a revised downward inflation outlook (eg, expansion of QE beyond September 2016). ECB President Draghi insisted on the willingness, readiness and ability to do more if needed. … we retain our call that the ECB will need to ease monetary policy further before year-end, most likely by extending its QE programme
Citigroup's Guillaume Menuet
Throughout the press conference, President Mario Draghi highlighted that the balance of risks had shifted further to the downside, both for economic activity and inflation: the door to more monetary policy support is firmly open, in our view. We feel comforted in our view that the ECB is likely to implement a larger QE programme than the €1.1tn announced in January 2015. We see a growing chance of such a decision before year-end—possibly on Oct 22—if financial conditions were to tighten further and the GC were to agree on the permanent (instead of transitory) nature of recent worries, threatening the ECB's price stability mandate.
The Lindsey Group's Peter Boockvar
Draghi comments are weakening the euro after he said the ECB would raise the cap on the amount of bonds of any one issue they can buy. They are likely doing this for logistical reasons as the total amount of QE has not changed. On QE specifically he said the ECB 'can adjust size and duration if needed,' it will run until they reach their inflation goals (which they are now cutting forecasts for which is also hurting the euro) and they believe QE is helping the economy (even though they also cut their GDP forecasts by one to two tenths over the coming years due to emerging market slowdown).
Intermarket Strategy's Ashraf Laidi
The ECB's aggressive GDP & CPI downgrades are widely designed to cushion the impact of potentially euro-boosting events, namely, a Fed decision hold rates unchanged later this month, further PBOC easing and fresh CNY devaluation. … The ECB's decision to deepen (not broaden) the purchase of individual issues does not imply an increase in the size of QE but allows it more flexibility in producing results from current level of purchases. Although Draghi asserted there was no discussion on increasing QE size and cutting interest rates, the possibility for more stimulus cannot be ruled out before year-end—another hint at "Will do whatever it takes" stance.
IHS Global Insight's Howard Archer
The door is now clearly wide open to the ECB stepping up its near-term pace of Quantitative Easing and/or increasing its overall size and duration. Whether the ECB steps through that door will clearly depend on whether Eurozone growth continues to struggle and inflation prospects deteriorate further.
ADM Investor Services International's Marc Ostwald
We are back where we were in terms of the ECB policy outlook, all talk and no real prospect of any additional near-term policy action. Draghi will however be praying that the Fed and the Chinese authorities do not continue to fumble and stumble in their policy pronouncements and implementation.
Before it's here, it's on the Bloomberg Terminal.
LEARN MORE