Ending Tobacco Sales at CVS Led to Statewide Smoking Reductions
Company study examined impact in states with many CVS stores

Smokers in those states bought 1 percent fewer cigarettes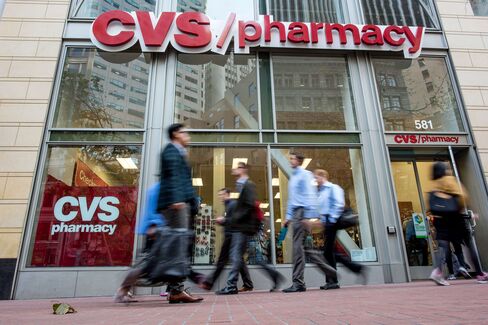 CVS Health Corp.'s move a year ago to give up tobacco seems to be helping some smokers stop or cut back as well.
In a study, researchers at the company found small but statistically significant reductions in total cigarette purchases in states where the company has a large presence and ended tobacco sales at its stores, according to the researchers.
CVS quit selling tobacco products last September as part of a business decision to focus broadly on health care. The company's analysis looked at cigarette sales in the following eight months. In 13 states where CVS had significant market share among drugstores, statewide cigarette sales declined 1 percent, compared with three states where CVS doesn't have stores, the analysis found. Other pharmacies and convenience stores haven't followed CVS's decision to end tobacco sales.
"It looks like one way to get people to smoke less is to stop selling cigarettes," said Steven Schroeder, who heads the Smoking Cessation Leadership Center at the University of California at San Francisco and has reviewed the CVS data. "It is a modest impact but it is favorable." Schroeder wasn't involved in the study, but said he was an unpaid adviser to CVS when it was deciding whether to pull out of tobacco.
Public-Health Praise
The cigarette decision earned plaudits from public-health advocates, including an invitation for Chief Executive Officer Larry Merlo to be First Lady Michelle Obama's guest at the State of the Union speech in January. It made a dent in sales, with front-of-store revenue at CVS pharmacies open at least a year falling 7.8 percent in the second quarter from a year earlier.
The reduction found in the study corresponds to roughly 95 million fewer cigarette packs sold during that time period, or five fewer packs per smoker. There are typically 20 cigarettes in a pack.
While that's a puff of smoke compared to the 269 billion cigarettes Americans consumed in 2014, the data suggest that at least some people who had previously purchased tobacco at CVS smoked less or quit smoking because of CVS's decision.
The effect "is very statistically significant," said Troyen Brennan, CVS's chief medical officer, who helped conduct the analysis. "We see a decrease in all the states in which we have a presence," he said, with the biggest decreases in the states where the company has the largest number of stores. This suggests "a causal relationship," he said.
Tobacco Sales
CVS has 7,800 retail pharmacies and also is the second-biggest manager of prescription-drug benefits in the U.S. The company estimates it held roughly 1.5 percent to 2 percent of the U.S. tobacco market before it stopped selling the products, worth about $2 billion in annual sales.
"We thought there was a possibility we could reduce overall use of tobacco, and indeed it appears that is what happened," Brennan said. "It is very rare to get this kind of natural experiment." Brennan said CVS planned to submit the results to a medical journal after collecting several more months of tobacco sales data.
Before it's here, it's on the Bloomberg Terminal.
LEARN MORE