Merkel Rebuffs Hungary on Refugees, Calls for EU Quotas
Chancellor Angela Merkel said Europe has a duty to shelter refugees, rebuffing Hungarian Prime Minister Viktor Orban who blamed the region's biggest flood of migrants since World War II on Germany opening its doors too widely.
"Germany is doing what is morally and legally required of us, no more and no less," Merkel said when asked during a visit to Switzerland on Thursday about Orban's remarks. "That's why this problem concerns all of us in Europe."
Merkel and French President Francois Hollande agreed in a phone call on Thursday that the 28-nation European Union needs binding country-by-country quotas for asylum seekers. Such proposals are rejected by Hungary and other eastern European countries, with Orban on Thursday saying a quota system will just encourage more migrants to come, and that the EU should focus instead on strengthening its borders.
https://twitter.com/itvnews/status/639341415319760896
"People in Europe are full of fear because they see that European leaders, among them prime ministers, are not able to control the situation," Orban said in Brussels following meetings with EU leaders. "Nobody would like to stay in Hungary. All of them would like to go to Germany. Our job is only to register them."
Germany and Hungary's bickering highlights the differing views emerging in Europe over how to approach the crisis. As refugees piled onto trains at Budapest's main train station, Hungary's parliament prepared tougher laws to crack down on migrants. Merkel has taken charge of Germany's response, calling it a national task to provide for the at least 800,0000 refugees her government estimates will arrive this year.
Minute Details
Merkel is delving into the minute details, such as the quest for temporary housing and the need for quick-fix waivers of building codes and public-procurement rules, according to a government official who asked not to be identified discussing private talks. Germany's government plans to present a package of measures, including higher spending on refugees, on Sept. 24.
"We can't disengage from what happens in the world," Merkel said on Thursday. "We talk a lot about globalization and now we're seeing part of what that is."
Thousands of undocumented migrants who had camped out at one of Budapest's rail stations stormed the platforms on Thursday after police allowed them in. The migrants, many of them from war-torn Syria, had wanted to go to Germany. Those hopes were dashed after Hungary canceled international rail connections and instead took them to refugee centers in Hungary.
Border Fence
Orban has responded to the crisis by building a razor-wire fence along the frontier with Serbia, beefing up the number of police and soldiers along the border and pushing through a law making it easier to immediately deport anyone entering from countries deemed "safe," including Serbia and Turkey.
The Hungarian parliament is holding a two-day emergency session to discuss further legislation, with proposed measures including a three-year prison sentence for crossing the border fence. Thousands rallied in Budapest on Wednesday evening to protest the government's treatment of migrants.
EU President Donald Tusk said Thursday during a press conference with Orban that proposals coming next week must address the EU-wide distribution of at least 100,000 refugees pouring into Hungary, Italy and Greece. The plans will likely require countries that refuse to take in refugees to provide financing for those that do, Italian newspaper Corriere della Sera reported, without saying where it got the information.
The leaders of Hungary, Slovakia, the Czech Republic and Poland, which reject refugee quotas for individual EU members, will meet on Friday in Prague to coordinate their position in the face of pressure from France and Germany, which are working on joint proposals to present to other European leaders.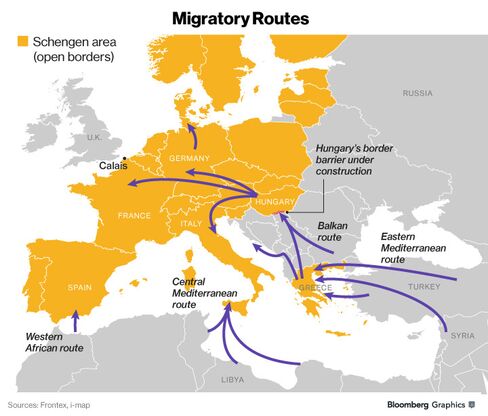 "I won't name them, but some countries have refused to take in any refugees, and they must reconsider their position," Hollande said Thursday in Paris. "The system is not working, We need a permanent, binding mechanism."
Before it's here, it's on the Bloomberg Terminal.
LEARN MORE