You're Just In Time to Get In The Abengoa Arbitrage Opportunity
Class B shares have outperformed the A version in recent weeks

`Situation will stabilize,' says analyst at MG Valores
For investors in Abengoa SA, a renewable energy company that has lost three-quarters of its market value in a year, the riskier shares have become the best bet.
Traders in the $920 million Spanish company have been drawn to a discrepancy between two share classes that widened after Abengoa announced a stock sale last month. As of yesterday, the gap between A and B shares was 68 euro cents, a spread MG Valores's Nicolas Lopez says will narrow in coming weeks.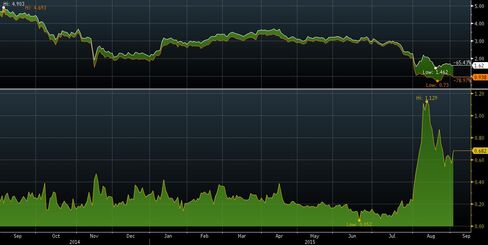 "The spread widened for a very specific reason, so it makes sense to arbitrage and take advantage of that,'' said Lopez, an analyst at MG Valores in Madrid. "Everything points to a successful capital increase, which means the company's situation will stabilize at least for a while.''
Since Class B shares reached a record 1.13 euro discount on Aug. 12, they fell less than the A version, which has more voting rights and is considered safer. On Thursday, B shares fell 3.5 percent, compared with a 3.4 percent decline for the A shares.
The B securities, included in Spain's benchmark IBEX 35 Index and the Stoxx Europe 600 Index, traded at an average discount of 32 euro cents to the A version since they started in 2012 through the end of July.
MG Valores's Lopez recommends profiting from the current disparity by selling A shares and buying B securities.
Abengoa's press office declined to comment on the share performance.
Most Volatile
Concern over the company's accounting methods and ability to generate enough cash to service obligations has made the stock among the most volatile in Europe. Abengoa first roiled investors in November, when it reclassified some bonds. More recently, the cost of insuring its notes against default shot up after it cut its free-cash flow forecast and said it will raise capital and dispose of assets. On Aug. 12, credit-default swaps indicated a 97 percent chance that Abengoa will default in five years, according to data provider CMA.
But some optimism returned last week, after people familiar with the matter said Credit Agricole SA, Banco Santander SA and HSBC Holdings Plc agreed to be standby underwriters in the capital increase.
Free Stock
Investor sentiment was also boosted by reports that Abengoa's main shareholder, Inversion Corporativa IC SA, paid back a loan, freeing stock it had used as collateral. That makes it more likely that it will be able to borrow again to participate in the sale if it needs to, according to Louis Gargour, chief investment officer of London-based LNG Capital, an alternative investment-management firm.
"Once it looked like the major shareholder would have the funds to participate and not be diluted, the Class A shares became less attractive," Gargour said. "It makes sense to sell the A shares and buy the B shares. If Abengoa completes the rights issue and the major shareholder keeps its stake, the price of the Class A shares will converge with the Class B shares."
Inversion Corporativa controls 57.5 percent of Seville-based Abengoa.
The arbitrage operation is risky as low volume in the A shares means it may be difficult to close a short position once the price starts to rise, MG Valores's Lopez said. There are 83.6 million of A shares outstanding, compared with 837 million for the B version.
Still, selling Abengoa A shares and buying the B security could produce a 25 percent return, after taking into consideration borrowing and transaction costs, according to LNG Capital's Gargour.
"The gap hasn't closed yet because there is still some uncertainty over whether Abengoa can successfully launch a rights issue," he said. "But the gap between the two will narrow. It's an arbitrage opportunity that won't be there forever."
Before it's here, it's on the Bloomberg Terminal.
LEARN MORE