Even as the landscape for wages looks bleak, at least one rung of the compensation ladder is doing just fine. And 2016 may be even better.
White-collar workers will get the biggest pay boost in eight years as employers compete for the best and brightest in America, according to staffing firm Robert Half.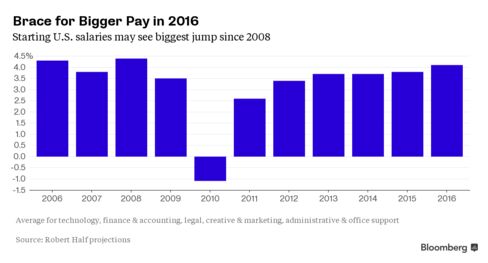 The 4.1 percent average advance for U.S. starting salaries across the five professional fields tracked by the company would follow a 3.8 percent projected gain in 2015.
That's a big contrast with average hourly earnings, which have been mired in a measly 2 percent range since the recession ended in mid-2009. The pay data from the Labor Department span the nation's workers across a spectrum of occupations and education levels.
Meanwhile, the Robert Half survey is based on more than 1,000 recruiters and covers more than 750 roles, most of which require at least a bachelor's degree and possibly certification. It tracks technology, finance and accounting, legal, creative and marketing, and administrative and office support services occupations.
Here's what workers eyeing higher pay should take note of:
Skills fetch a premium
In fields such as mobile or compliance and security, there's more demand for talent than there are people to supply it. Wireless networking engineers will see a 9.7 percent jump in their starting salaries, topping all positions in the survey.
"If they're really in demand, they're getting 15 to 20 percent more" than what's predicted, said Paul McDonald, senior executive director at Robert Half.
Employers are also responding to a shortage of good talent by offering sweeter perks—flexible hours, more vacation time, even counter-offers to make employees stay.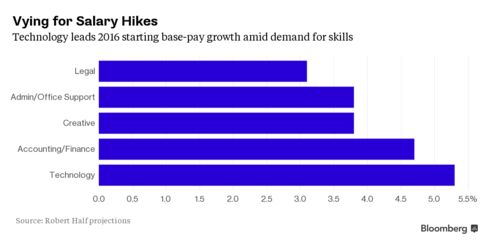 Don't ignore big data if you want a big raise
A big data engineer could snag a starting pay of $129,500 to $183,500, an 8.9 percent jump from 2015. Mobile applications developer, data security analyst, user experience specialist and business systems analyst-manager are also in the top 10 roles to watch.
A certified medical coding manager, another hot job, may bring in as much as $96,250 in 2016, a 4.8 percent increase from this year. This burgeoning field in part reflects changes in the health-care industry, such as the upcoming U.S. move toward using the latest international classification of diseases.
"It's snuck up," McDonald said. "A lot of people are surprised at how many jobs it'll create."
Look for a new, new job
Those not in accounting or tech can also take heart from some brand-new job descriptions that have cropped up for the 2016 salary guide, such as data scientists and visual designers—workers who can deliver designs across the Internet, mobile, tablet and other platforms.
Before it's here, it's on the Bloomberg Terminal.
LEARN MORE