The Day Nothing Worked: 499 Down Stocks and the Oversold Thesis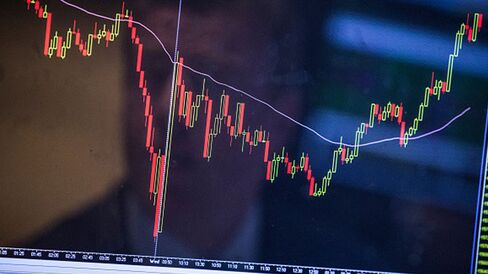 Breadth in the S&P 500 on Tuesday was worst since August 2011

Morgan Stanley: oversold conditions in stocks say to buy
Tuesday battered U.S. equity bulls like few days before it, with 499 of the Standard & Poor's 500 Index's members falling and 24 of 24 industries losing more than 1 percent.
Breadth was worse in the 502-stock S&P 500 than any day since August 2011, when 500 shares declined, according to Jonathan Krinsky of MKM Holdings LLC. Those are the only two instances of losses that widespread going back to 1996, Krinsky's study shows.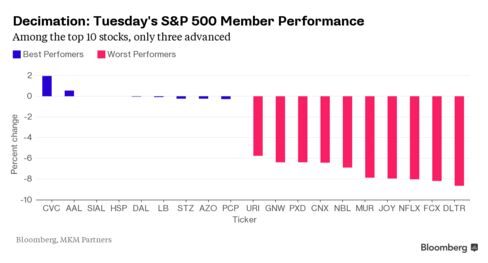 "In the last four years this would've been a screaming buy signal, because the market was in an uptrend. But we've been declining and right now we're in a neutral trend, so it's not that easy," Stamford, Connecticut-based Krinsky said in a phone interview. "A lot of people are using August 2011 as a playbook this time around and there's some validity to that, but it's never that easy."
The three stocks that rose Tuesday were Cablevision Systems Corp., American Airlines Group Inc. and Sigma-Aldrich Corp. Cablevision added the most with a 2 percent gain, while American Airlines climbed 0.6 percent and Sigma-Aldrich ended the session up less than 0.1 percent.
While not part of its thesis, Tuesday's drubbing came on the heels of a report by Morgan Stanley's European equity research team issuing a "full-house buy signal" on equities, citing oversold conditions in stocks. It's the first time since January 2009 that the five indicators watched by the bank are saying to buy, according to the report.
"Most of our sentiment metrics look very oversold," strategists wrote in the note. "The current correction is now comparable in size to the average correction over the last 40 years, and these corrections have tended to be V-shaped with strong recoveries from the trough."
Before it's here, it's on the Bloomberg Terminal.
LEARN MORE