Most economists surveyed now predict a 25bps cut by Sept. 30

Swaps are pricing in a 25bps reduction by the end of the year
Both economists and traders are now expecting another India rate cut this year: The debate is centering on whether it will come this month or in December.
Eleven of 21 analysts in a Bloomberg survey published Aug. 25 see the repurchase rate lowered to 7 percent from 7.25 percent by the end of this month, while the rest see no change. In July, only five of 25 had predicted a cut this quarter.
Swaps are pricing in at least one 25 basis point reduction by the end of 2015. While the forward swap indicates the policy rate could go as low as 6.75 percent in one year, as recently as early August it predicted no change.
"Clearly in the absence of further softening in rates we will not be able to kick start our investment cycle," Killol Pandya, a senior debt-fund manager in Mumbai at LIC Nomura Mutual Fund Asset Management Co., said by phone on Wednesday.
Central bank Governor Raghuram Rajan is scheduled to review policy twice more this year: on Sept. 29 and Dec. 1. He may also act in between meetings, as he did for two of his three rate cuts since January.
Data in the past few weeks show that India's inflation and growth slowed more than estimated as stocks plunged over concerns that China's slowdown will jeopardize global expansion.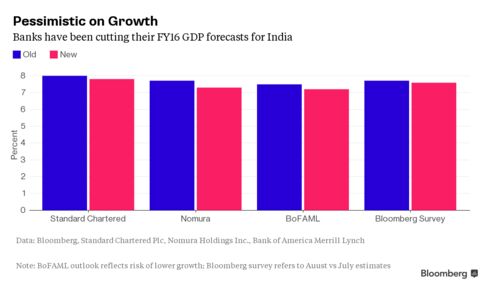 The case against a rate cut is largely tied to consumer-price inflation. The figure was 3.78 percent in July, below Rajan's target of 6 percent by January for the 11th straight month. The number for August will be released on Sept. 14.
Rajan also needs to grapple with the possibility of an increase in U.S. rates. That could trigger outflows and weaken the rupee, which plunged the most in two years this August.
Standard Chartered Plc and Nomura Holdings Inc. on Tuesday were among banks that lowered their growth forecasts for India after data showed that Asia's third-biggest economy expanded 7 percent from April to June from 7.5 percent the previous quarter.
While the slowdown was steeper than estimated, India is on par with China as the world's fastest-growing major economy after taking the top spot in January-March. Nomura now expects India's GDP to grow 7.8 percent in the year through March 2016, with Standard Chartered predicting 7.3 percent. Morgan Stanley also cut its forecast to 7.5 percent from 7.9 percent.
Oil's plunge may provide Rajan even more room. The monetary authority hasn't yet fully accounted for the recent drop in oil, Rajan said on Aug. 4 after keeping rates unchanged. The RBI's model prices crude at about $55 a barrel, while costs fell as low as $42.69 on Aug. 24.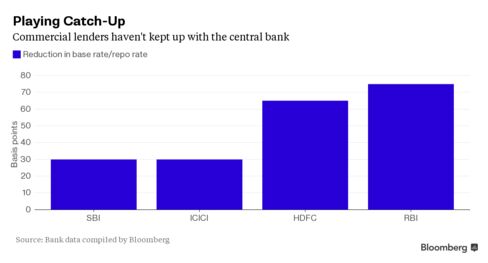 Further easing will depend in part on greater transmission of the three rate cuts made this year, Rajan said earlier. Commercial banks have reduced lending rates by as much as 65 basis points this year, compared with 75 basis points for the central bank.
"We have grown more confident of our standing call that lending rate cuts hold the key to growth," Indranil Sen Gupta, a Mumbai-based economist at Bank of America Merrill Lynch, wrote in a Sept. 1 report. "Although we expect the RBI to cut on Sept. 29 and February, time is running out for lending rate cuts, with the busy industrial season barely a month away."
Before it's here, it's on the Bloomberg Terminal.
LEARN MORE