Turkey Charges Three VICE News Reporters With Terrorism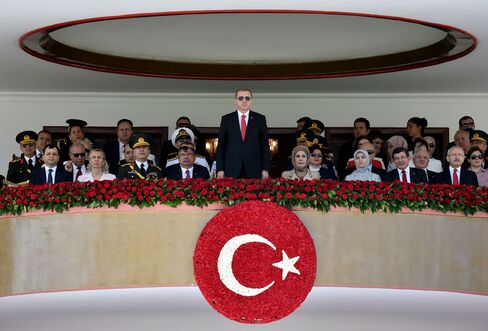 A Turkish court has formally charged three VICE News reporters with terrorism, a claim denied by the media network as "alarmingly false."
British journalists Jake Hanrahan and Philip Pendlebury were detained with another foreign colleague, while filming in Diyarbakir, the largest city in Turkey's Kurdish-dominated southeast on Thursday. The court in Diyarbakir on Monday arraigned the three on charges of terrorism, state-run Anadolu Agency said.
While the journalists were initially rounded up on alleged links to Islamic State, the court charged them with abetting the Kurdish militant group PKK after they interviewed members of its youth wing, Radikal newspaper said.
Kevin Sutcliffe, VICE's news programming chief in Europe, said in a statement Monday that the allegations against the journalists were "baseless and alarmingly false" and an attempt to "intimidate and censor their coverage."
"Prior to being unjustly detained, these journalists were reporting and documenting the situation in the southeastern Turkish province of Diyarbakir," Sutcliffe said. The city has been caught in the intensified strife between autonomy-seeking PKK militants, branded as terrorists by Turkey, U.S. and EU, and Turkish security forces in the region.
Press Muzzled
Turkey was ranked 149th of 180 countries in Reporters Without Borders' Press Freedom Index in 2015, behind Mexico and ahead of Democratic Republic of Congo. While it freed about 40 journalists from jail in 2014, members of the media are still being prosecuted, and Internet censorship, gag orders and the dismissal of journalists "actually worsened, showing that freedom of information continues to decline," it said.
Human rights groups, including Amnesty International, have called for the immediate release of the reporters in Turkey. A decision by an Egyptian court to sentence three journalists for Qatar-based television station Al Jazeera to three years in prison on Saturday also drew international condemnation.
"We urge Turkish authorities to ensure their actions uphold universal democratic values, including due process, freedom of expression, as well as access to media and information," Mark Toner, a spokesman for U.S. State Department, said Monday in response to the arrests.
Before it's here, it's on the Bloomberg Terminal.
LEARN MORE