Staring Down the Rout in U.S. Stocks With Firms Seeing 12% Rally
History of big finishes shows why strategists are unbowed

Only four have cut S&P 500 projections since the selloff
While the noise emanating from U.S. stocks has gotten deafening of late, Wall Street strategists have been quiet, at least going by their year-end targets. The market's recent record of year-end rallies may explain why.
Among 21 brokerages tracked by Bloomberg, 17 haven't touched their projections for the Standard & Poor's 500 Index even after August's selloff, maintaining predictions that call for a 12 percent rally by New Year's. On average, strategists see the gauge reaching 2,204 in 2015, compared with 1,972.18 at Monday's close.
Is that a lot? Judged by nine decades of history, yes. The average return for the S&P 500 between Aug. 31 and year-end is 3.3 percent, data since 1927 compiled by Bloomberg show. But instances of it happening have been more common in the current bull market, with gains of comparable scope lifting shares in 2010 and 2013.
"We're not blinking at this point, and we're going to let it ride because it's been the nature of this market," said John Stoltzfus, the New York-based chief market strategist at Oppenheimer & Co. who thinks the S&P 500 will end this year at 2,311. "It doesn't guarantee a rally here but it certainly shows the market has resilience."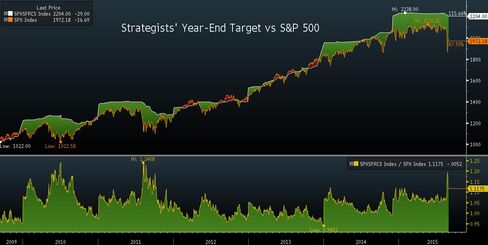 Among those who have reduced forecasts, Barry Bannister of Stifel Nicolaus & Co., who became the latest on Monday, says the one-week rout in stocks "makes aggressive year-end S&P 500 targets more challenging." Concerns ranging from a stronger dollar to weakening earnings to widening credit spreads also prompted strategists at JPMorgan Chase & Co., Credit Suisse Group AG and Jefferies Group LLC to turn more bearish over the past week.
Still, all but Jefferies's Sean Darby expect the S&P 500 to post gains through the year-end, according to the Bloomberg survey. Strategists are holding firm in the face of the market's first 10 percent retreat in almost
four years, unfazed by a selloff triggered by China's currency devaluation. With U.S. economic growth gathering momentum, stocks will resume a rally to new highs, according to Tom Lee of Fundstrat Global Advisors LLC.
"As long as fundamental visibility remains good in the U.S., investors are looking to next year and they're going to look at the oil price recovering," Lee, New York-based managing partner and co-founder of Fundstrat, said by phone. "It's possible for the market to stage a rally."
While September and October rank among the worst months for stock performance, history shows investors betting on a year-end rally make money more than they lose. Altogether, the final four months have produced gains two-thirds of the time since 1927, data compiled by Bloomberg show. During this bull market, the success rate has been perfect, with the S&P 500 climbing every year since 2008 and returns averaging 8.3 percent.
Fed Rates
With global demand waning and the Federal Reserve poised to raise interest rates for the first time in nine years, U.S. profits that are already at risk of falling may keep stock prices from going higher, according to Jefferies.
"A topping out process of the U.S. equity market has been under way for nearly seven months," Darby, chief global equity strategist at Jefferies in Hong Kong, wrote in an Aug. 24 note. "Absolute gains are likely to be limited to sectors exhibiting pricing power."
One of the reasons that year-end rallies have been more pronounced since 2009 is that the economy tended to stage a recovery after starting years poorly, according to Weeden & Co.'s Michael Purves. Gross domestic product rose at a 3.7 percent annualized rate in the second quarter, more than previously forecast, the Commerce Department said Thursday. That followed a reading of 0.6 percent in the first.
"You have a lot of history of bad first quarter GDP print. That sets a negative tone for the first half," said Purves, Weeden's chief global strategist in Greenwich, Connecticut. "As economic and earnings matrix start to come in, people realize that the economy is not going into recession, and basically the overall trend is intact. They can press it and get the confidence they need to push stocks higher."
"A lot of positioning right now is not bullish," he said. "There is a good chance that you get one of the glorified performance chase into year-end."
Before it's here, it's on the Bloomberg Terminal.
LEARN MORE