Russia to Design Wide-Body Jet With China to Take On Boeing
China, Russia may expand deal to include engine design

United Aircraft to cooperate with Comac on new planes
Russia plans to work with China on a wide-body aircraft that would compete with jetliners from Boeing Co. and Airbus Group SE and aims to sign an accord by the end of this year.
The government is ready to fund the initial stage of the project, which will focus on the design of a new twin-aisle plane, Deputy Industry Minister Andrey Boginsky said in an interview near Moscow. The collaboration may later be expanded to include the development of an engine, he said.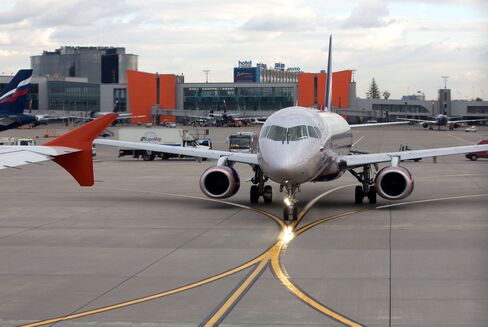 Russia's United Aircraft Corp. and Commercial Aircraft Corp. of China, known as Comac, are discussing a work plan and obligations as they seek to firm up a memorandum of understanding signed in May 2014, Boginsky said.
President Vladimir Putin is pursuing ties with Beijing as a counterweight to U.S. and European influence after relations with western powers soured over the conflict in Ukraine. He can boast little progress to date, with the Chinese economic slowdown and a plunge in oil and commodity prices causing Russia-China trade to slump 29 percent in the first half of 2015 to $30.6 billion, threatening his $100 billion target for the year.
The plan to design a viable wide-body jet may need as much as $20 billion of investment, according to Oleg Panteleyev, head of research at Aviaport.ru.
Global airlines will need as many as 8,830 wide-bodies in the next two decades with demand in China alone reaching 1,500 aircraft, according to Boeing estimates. The U.S. manufacturer and Airbus have a duopoly on production of twin-aisle jets, unlike the more crowded narrow-body market where competitors have planes at various stages of development.
United Aircraft plans to target market share beyond just Russia and China, according to an e-mailed comment from Sergey Loktionov, a spokesman for the state-controlled company. A media relations officer from Comac declined to comment on the matter.
The countries also plan to sell Russia's Sukhoi Superjet 100 regional plane in China and other Asian markets under a framework agreement to create a leasing company that was signed in May of this year.
Russia and China aim to compete separately with Boeing and Airbus in the market for 100-seat-plus jetliners, the biggest segment in the industry. UAC is developing the MC-21 and Comac the C919, with the Russian plane due to fly for the first time in 2016 and the Chinese aircraft as early as this year.
Before it's here, it's on the Bloomberg Terminal.
LEARN MORE