Rajan Hails Money Markets Passing on Rate Cuts as Banks Go Slow
One-year commercial paper rates sink to five-year low

Loans in India growing near the slowest pace since 1994
Sliding money-market rates have been hailed by Reserve Bank of India Governor Raghuram Rajan as evidence his interest-rate cuts can revive the economy while banks fail to pull their weight.
One-year commercial paper rates dropped 72 basis points in 2015 to 8.30 percent on Monday, the lowest since 2010. By contrast, State Bank of India, the nation's largest lender, cut its base rate just 30 basis points. The total amount of commercial paper outstanding was 2.71 trillion rupees ($40.8 billion) at the end of June, up 30 percent from December, the latest central bank data show.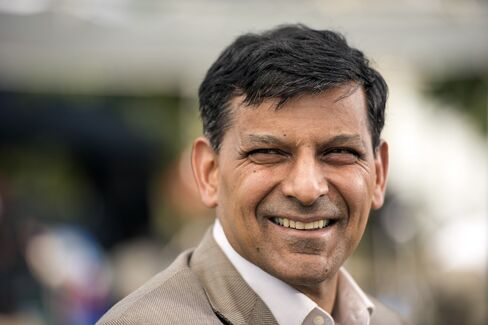 "The new development is the markets are transmitting monetary policy much better," Rajan, who has lowered the key repurchase rate three times in 2015, said in an interview with Bloomberg TV in Jackson Hole, Wyoming on Friday. "So a whole lot of firms have gone directly to borrow in the commercial paper market, instead of going via banks. That's a new welcome development."
Loans are growing near the slowest pace since 1994 as Indian banks, seeking to shield profits amid surging delinquencies, remain reluctant to pass on lower financing costs. The revival in capital markets alone may not be enough to support Prime Minister Narendra Modi's plans to boost growth. Gross domestic product expanded 7 percent last quarter from a year earlier, down from 7.5 percent in the three months ended March.
"The rate transmission has happened much faster in the capital markets," said Santosh Kamath, Mumbai-based chief investment officer for fixed income at Franklin Templeton Asset Management India Pvt. "Companies are looking to take advantage of the arbitrage between money-market rates and banks' base rates."
Corporate Bonds
Governor Rajan has lowered the repo rate by 75 basis points to 7.25 percent, with the last move in June. He kept the benchmark unchanged at an Aug. 4 review, saying the central bank will monitor the transmission of previous cuts as it looks for room to ease policy further.
The yield on three-year AAA-rated corporate securities has fallen 31 basis points in 2015 and slumped to 8.33 percent last week, the lowest since May 2013. That for 10-year company debt has dropped 14 basis points to 8.45 percent.
Cheaper short-term costs are prompting companies to borrow with less time for repayment. Billionaire Mukesh Ambani's Reliance Jio Infocomm Ltd. raised 35 billion rupees by selling notes maturing in three years on July 31 and borrowed 10 billion rupees through similar structure bonds on Aug. 3. The telecommunication firm had issued five- and 10-year securities in January.
Religare Finvest Ltd., a New Delhi-based financial services company, raised 13.2 billion rupees in an eight-part debenture sale on Monday, with some notes maturing as early as December.
Stressed Assets
Lending has been weighed down by soured credit, with stressed assets accounting for 11.1 percent of loans in India's banking system as of March 31, the highest since 2002, according to data provided by the RBI. Loans grew 9.37 percent in the 12 months through Aug. 7, close to February's 8.88 percent, which was the lowest level since 1994. The figure has stayed below 10 percent since mid-May.
"Banks' base rates have been relatively rigid," said Rajeev Radhakrishnan, Mumbai-based head of fixed income at SBI Funds Management Pvt., which manages 843 billion rupees. "There could even be substitution happening, wherein a bank that was earlier funding a corporate through loans is now probably doing that through a subscription to bonds or commercial papers."
Rajan in an Aug. 28 interview said he expects rate transmission to improve in the coming months. Earlier on Aug. 4, he said the rate cuts work with a lag of three to four quarters.
Easing Liquidity
Edelweiss Financial Services Ltd. says improving cash availability is also driving short-term rates lower. While slow credit growth has left lenders with idle funds, an increase in government spending at the start of the fiscal year in April has also boosted cash supply, said Ajay Manglunia, the Mumbai-based head of fixed income at the firm.
The impact can be seen in interbank borrowing costs, with the one-month interbank rate plunging 101 basis points this year to 7.58 percent, according to data from the National Stock Exchange of India Ltd.
Indian companies have raised 2.9 trillion rupees selling bonds so far this year, up 20 percent from the same period in 2014, data compiled by Bloomberg show. LIC Nomura Mutual Fund Asset Management Co. says it is imperative that banks pare lending rates for the benefits of monetary easing to trickle down to the real economy.
"It's essential that interest rates as a whole come down and the moves not only remain confined to the capital markets," said Killol Pandya, a senior debt-fund manager in Mumbai at LIC Nomura Mutual, which manages 111 billion rupees. "The RBI has been moaning about the slow pace of transmission."
Before it's here, it's on the Bloomberg Terminal.
LEARN MORE