Putin's Got a New Problem With China
Russia-China trade down 29% this year, far short of target

Few deals expected as Putin visits Beijing this week
As Chinese leader Xi Jinping welcomes Russian President Vladimir Putin to Beijing this week to celebrate the anniversary of the end of World War II, the news on the economic front for the two would-be allies isn't nearly as positive.
China's market plunge over the last few weeks has added to the pressure, helping knock the ruble to the lowest levels in months. Growing doubts about China's economic outlook have hit prices for oil, Moscow's main export, pushing Russia deeper into recession.
Russia, in pivoting toward China, is portraying closer relations as the emergence of a counterweight to the U.S. and Europe's dominance. "Russian-Chinese ties have reached probably their highest level in history and continue to develop," Putin said in a pre-visit interview with Tass and Xinhua released Sept. 1.
Economic data tell a different story. Trade between the two nations fell 29 percent in the first half of this year to $30.6 billion. Russian government officials now say that there's virtually no chance they will hit their target of $100 billion in trade turnover this year, a goal Putin publicly embraced as recently as October. Putin in his interview didn't mention the drop in trade this year.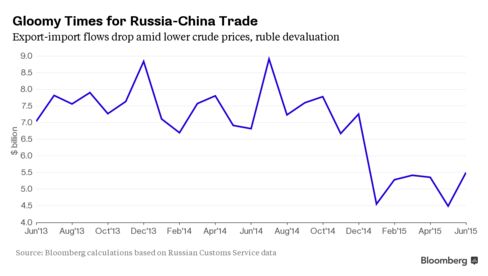 Rhetoric Gap
"The level of Russian rhetoric about Russia-Chinese relations and the reality are quite separate things," Alexander Gabuyev, head of the Russia in Asia Pacific Region program at the Moscow Carnegie Center, said by phone on Aug. 31. "Russia is the supplicant partner, not China, which still has a range of choices to source resources even despite its recent economic troubles."
The biggest deal expected to be signed during the visit, according to Kremlin foreign policy aide Yuri Ushakov, is a memorandum of understanding for a new pipeline to take gas from Russia's Far East to China. No binding commitments on the key issues of price or timing are expected. Ushakov said it's unlikely that Moscow's goal of a deal on a pipeline from western Siberia to China will be met this time, either.
The decline in trade this year has pushed Russia out of the ranks of China's top 15 trade partners for the first time in more than five years.
In the interview, Putin denounced U.S. and European sanctions imposed on Russia over the Ukraine crisis as "illegitimate," saying that they have "stimulated" Russian business to build ties with China. From Beijing, Putin heads to an economic forum in Vladivostok aimed at raising Russia's economic profile in the region.
Currency Woes
Some of the Russia-Chinese deals announced to date have not worked out as hoped.
A 150-billion-yuan swap agreement Russia's central bank reached with People's Bank of China in October to facilitate direct settlement between the ruble and the yuan, avoiding use of the dollar, hasn't found much demand because it can be used only for short-term trade financing, Peter Fradkov, first deputy chairman at Vnesheconombank, said in an interview last week.
His bank, cut off from its primary foreign markets in the U.S. and Europe by sanctions, is for the moment unable to issue yuan bonds to raise money in China because of "regulatory issues," he said. VEB still hopes to issue them in the future, he said.
Credit lines amounting to 9 billion yuan signed in May between Russia's Sberbank OJSC and VTB Group and Chinese lenders are barely used because there is practically no demand in Russia for loans in yuan, said Maxim Poletaev, first deputy CEO at Sberbank. VTB First Deputy Chairman Yuri Soloviev said in June that demand is insufficient.
Russia had much higher hopes for building economic links with its eastern neighbor last year, when it stepped up ties amid tensions with the U.S. and Europe over the war in eastern Ukraine.
Gas Deals
Gazprom signed a $400 billion gas contract during Putin's visit to China in May 2014, a deal that Putin said would help to turn Russia's eastern regions into the world's largest construction site.
Since the announcement, the two countries have failed to agree on advance payments from China as a possible source of financing for the $55 billion link and fields.
Moscow's plan for another gas pipeline from west Siberia to China has faced a cool reception from Beijing. The route is a priority for the Kremlin because it would connect Russia's main gas fields deep in western Siberia to the Chinese market, reducing their dependence on Europe, where political pressures are squeezing demand. Analysts see little appetite in China for the pipeline because it would cross the border thousands of kilometers from its industrial centers.
Transportation has been a bright spot for cooperation. In June, Russia brought Chinese partners into a 1 trillion-ruble project to build a high-speed-rail link from Moscow to Kazan. Before sanctions, the Kremlin had been hoping to attract European companies to the deal.
Russian officials say they aren't giving up hope. "When there is such an explosive growth of cooperation, there are always more intentions than results" at the start, Deputy Prime Minister Arkady Dvorkovich said Aug. 26 in an interview with state television.
Before it's here, it's on the Bloomberg Terminal.
LEARN MORE