How Long Can a Sentiment-Fueled Oil Rally Last? Goldman Sachs and Citi Debate
A rally or a further leg down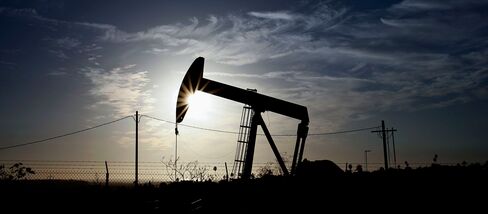 After West Texas Intermediate posted its best three-day gain in a quarter-century, analysts are divided over the durability of the rally in the commodity price and related equities.
Goldman Sachs and Citigroup agree that the near-parabolic trajectory of crude prices has been driven by a shift in sentiment, rather than a significant change in the fundamentals of the oversupplied global oil market. But while the former believes that energy stocks have more room to run, the latter says the shaky foundation of the rally should prompt investors to head to the sidelines.
The notable increase in energy options prices amid the severe equity selloff last week "demonstrates a capitulation in sentiment and positioning that we have been waiting for for the past two months," according to Goldman Sachs.
Spikes in implied volatility, which can be derived from options prices and the put-call skew—or the extent to which investors will pay more to protect from downside than to realize potential upside—have been "excellent quantitative indicators for shifts in energy investor positioning over the past 15 months," asserted Managing Director John Marshall and Vice President of Equity Derivatives Katherine Fogertey of Goldman.
The recent surge in the implied volatility and the put-skew rank for West Texas Intermediate, the Energy Select Sector SPDR ETF, and the United States Oil ETF marked a key turn in investor sentiment that will serve as a tailwind for energy stocks for weeks, said Goldman: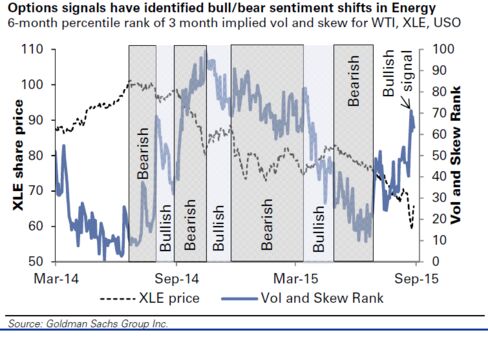 "Spikes suggest a 'hedge at any price' sentiment often associated with a capitulation in investor conviction," the pair wrote. "Whether it is driven by long investors hedging or short investors buying puts to express a view that the sell-off is likely to accelerate, buying options at peak prices suggest investors are so fearful of a further down move that they are not price sensitive."
By contrast, Citi's team, led by Edward Morse, took a decidedly bearish view on the underlying commodity.
"Citi foresees that WTI and Brent prices should post another fresh leg lower—perhaps making new 2015 lows—before year-end," Morse wrote. "Sharp gains over the past three trading sessions were driven by a combination of short covering and chart-readers again looking to call a bottom falsely."
According to Morse, investors should take the revised Energy Information Agency data showing that U.S. shale production has been lower than previously thought, rumors of slowing production from Saudi Arabia, and reports that OPEC is willing to work with other producers to manage supply not with a grain, but a heap of salt.
"2015 is not like 1998 when both Mexican and Russian production were surging and when both countries participated in a supply cut," said Morse. "Russian production is growing this year because of a significantly weaker ruble cost of oil while Mexico is trying to push through energy reform."
WTI for October delivery is down 6.5 percent, around $46 a barrel in early New York trading.
Before it's here, it's on the Bloomberg Terminal.
LEARN MORE