Euro-Area Joblessness Declines to Lowest Level Since Early 2012
Unemployment rate in 19-nation region dropped to 10.9% in July

PMI data signal recovery driven by Germany as France struggles
Unemployment in the euro area unexpectedly declined to its lowest level in more than 3 years, signaling the region's recovery is gaining pace even as dark clouds from China draw on the horizon.
The seasonally adjusted unemployment rate for the 19-nation region dropped to 10.9 percent in July from 11.1 percent in June, the European Union's statistics office in Luxembourg said on Tuesday. That's the lowest since February 2012 and below the median forecast of 11.1 percent in a Bloomberg survey of economists.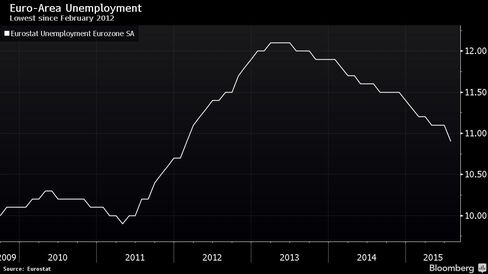 The data comes before European Central Bank policy makers meet in
Frankfurt on Thursday to assess their current stimulus. While the drop in unemployment adds to signs that the euro area is on the mend, China's economic slowdown and downside risks to inflation due to a slump in the oil price may damp the outlook.
"The ECB is really getting mixed messages -- growth is holding up quite well, the recovery story looks to be on track," said Nick Kounis, head of macroeconomic research at ABN Amro Bank NV in Amsterdam. "However, we've had an increase in market turmoil, which has led to some tightening in financial conditions, and we've seen the slump in commodity prices that have caused a decline in inflation expectations."
With joblessness still high, particularly in southern Europe, and hindering a pickup in momentum, ECB President Mario Draghi has consistently urged the region's leaders to improve the competitiveness of their economies, saying the central bank's bond-buying program can't serve as a substitute for much-needed structural reforms.
Manufacturing Sector
A separate report on Tuesday showed that a closely watched gauge for euro-area manufacturing eased to 52.3 in August, a touch below July's print of 52.4. In a positive sign, the gauge of new orders rose to the highest in more than a year, while export demand also improved.
The report showed France's manufacturing industry shrank more than initially estimated, leaving Germany to take a greater share of the burden of driving the euro-area recovery.
In June, the ECB predicted growth in the region of 1.5 percent this year and 1.9 percent in 2016. It will issue new forecasts on Thursday after rate setters have concluded their policy review.
Business confidence in Germany has improved in the past two months and the Bundesbank has said the economy is poised for "solid" growth, supported by both external and domestic demand.
Consumer spending has been a key factor in the country's relatively buoyant performance in recent months. In a sign that trend is likely to continue as trade risks from China's economic slowdown mount, unemployment in Europe's largest economy declined in August, with the jobless rate unchanged at 6.4 percent.
Italy's economy grew more than previously estimated in the first half of the year and unemployment unexpectedly fell in July, fueling optimism that the policies passed by Prime Minister Matteo Renzi may help create jobs as the country emerges from a record-long recession. Gross domestic product rose 0.4 percent in the first quarter and 0.3 percent in the second, according to a separate report.
"We believe that the euro zone should be able to achieve reasonable, if unspectacular, growth over the coming months," said Howard Archer, chief European economist at IHS Global Insight in London. "Although the threat to global growth that could come from a marked Chinese slowdown is a worry."
Before it's here, it's on the Bloomberg Terminal.
LEARN MORE