Devaluation Lessons in Denmark Show Cost of Race to Bottom
Danish finance minister would like to join euro right away

Voter skepticism means referendum not planned in near future
Don't devalue. That's the simple message from the Danish government, whose finance minister this week affirmed his nation's commitment to a fixed currency regime.
If it were up to him alone, Denmark would join the euro zone right away, Finance Minister Claus Hjort Frederiksen said in an interview on Tuesday in his Copenhagen office. He dismisses arguments, such as that brought forward by Nobel Laureate Paul Krugman, that the euro has shackled economies to a rigid system that's undermining growth in parts of the currency bloc.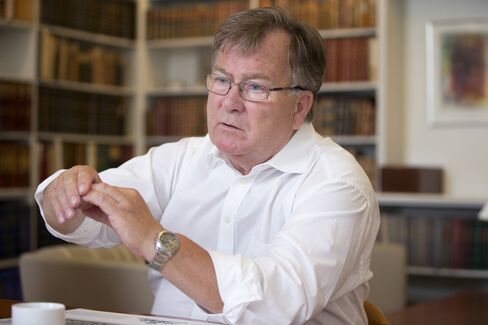 "I'd very much like to be a part of the euro zone," he said. "There's a popular tendency to link Europe's debt crisis to the euro, but it's just a question of certain countries not having had control over their finances. One can't say that what Europe has been through can be blamed on the euro."
Incompetent Politicians
In essence, euro-zone members struggling with their budgets are generally experiencing the fallout "to put it mildly, of incompetent politicians," Frederiksen said.
As competitive devaluations dominate trade policies across the globe, Denmark says its experiences four decades ago cured the country of the urge to repeat the experiment. Denmark's external debt soared from about 10 percent of gross domestic product in the 1970s to almost half of GDP. Debt started to fall in the 1990s, after the krone had been pegged, first to the deutschmark and then to the euro.
"Our costs rose and our competitiveness sank," Frederiksen said. "That was what drove us to decide on a fixed exchange-rate regime."
Denmark's latest bout of currency anxiety started in January, when it was dragged into a two-month battle to stop speculators hoarding kroner and undermining its euro peg. Frederiksen says anyone with a knowledge of Danish economic history wouldn't have dared to take on the country's euro peg.
"After a dramatic start to the year, the Danish central bank has succeeded in restoring calm to the currency market for the Danish krone," Jan Størup Nielsen, a senior analyst at Nordea Markets, said in a report published on Wednesday.
No Referendum
"The fixed exchange-rate regime is nailed into Denmark's economic policy, and we will defend it," Frederiksen said. In the event, Denmark prevailed and the speculators were beaten back.
Though policy makers were struggling to prevent the krone strengthening beyond the limits of the peg, Frederiksen says the example supports his view that Denmark would be better off inside the euro.
But voter skepticism towards a currency switch means the government won't put the issue to a referendum for the "foreseeable future," he said.
"It's not on the agenda," Frederiksen said.
For more, read this QuickTake: Swiss Bank Accounts
Before it's here, it's on the Bloomberg Terminal.
LEARN MORE