China Factory Gauge Shrinks to 3-Year Low
China rate cuts since November are struggling to find traction

French manufacturing also shrinks, as Germany beats forecasts
China's official factory gauge fell to the lowest level in three years as monetary easing failed to revive old growth drivers, while measures for the euro area signaled a divergence in the German and French economies.
China's official Purchasing Managers' Index was 49.7 for August, matching the median estimate in a Bloomberg survey and down from 50 in July. Numbers below 50 indicate contraction, with small, medium and large enterprises all below that level last month. A similar gauge for France fell to 48.3 from 49.6, while Germany's reading rose more than estimated to 53.3, according to data published by Markit Economics on Tuesday.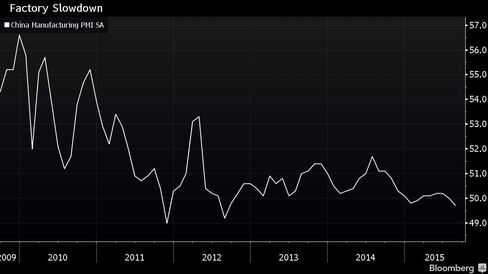 The PMI data highlight the headwinds faced by the global economy, with the euro-area recovery remaining fragile and France's struggle leaving Germany carrying more of the region's burden. The overall euro-area measure was at 52.3 in August, below the initial reading of 52.4. A gauge of new orders rose to the highest in more than a year, while export demand also improved.
U.K. manufacturing growth cooled in August as export orders fell for a fifth month. In its monthly factory report published in London, Markit said companies blamed the decline in foreign demand on the strong pound, weak sales in the euro area and the Chinese economic slowdown. The headline manufacturing index slipped to 51.5 from 51.9 in July.
European Central Bank policy makers meet in Frankfurt on Thursday, where they'll have to grapple with the impact of China's economic slowdown and downside risks to inflation.
The People's Bank of China last week lowered benchmark interest rates for the fifth time since November and allowed the yuan to devalue on Aug. 11 in a move that should help bolster exports. With deepening factory gate deflation and sluggish external demand outside of the U.S. market, manufacturers have yet to show a sustained response to the monetary easing.
"Both domestic and external demand are weak," said Tommy Xie, an economist at Oversea-Chinese Banking Corp. in Singapore. "Market sentiment is bad and it's too early to say the Chinese economy is bottoming out."
Xie said a stock market rout and the yuan devaluation in August have added additional risks for manufacturers.
The Shanghai Composite Index slid 1.2 percent to 3,166.62 at the close, after dropping as much as 4.8 percent.
Reflecting the outperformance of services industries throughout the economic slowdown, the non-manufacturing PMI reading for August was at 53.4, still signaling expansion. It dropped from 53.9 in July.
Double Dip
The official factory indicator was in line with a private survey -- the final Purchasing Managers' Index from Caixin Media and Markit Economics was at 47.3 in August. That was higher than the 47.1 preliminary reading.
China is seeing a "double-dip" and a "bumpy deceleration," Goldman Sachs Group Inc. economists led by Andrew Tilton and Yu Song, wrote in a note before the release, cutting their forecast for GDP growth in 2016. "Policy easing starting in March seemed to help revive growth in May and especially June. But growth has slowed anew in July and August, prompting market and policymaker concerns," they wrote.
The Shanghai Composite Index lost 12 percent in August after sliding 14 percent in July. Swings in Chinese markets have rattled investors worldwide as they struggle to anticipate policy actions in the world's second-largest economy.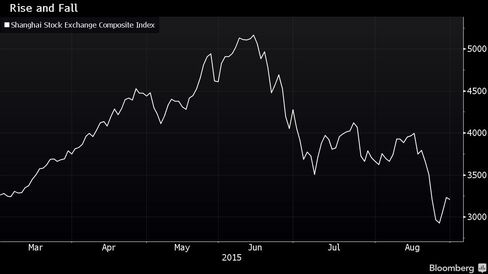 The government revived intervention in equities last week to halt the biggest selloff since 1996. That was part of a broader push to ensure nothing detracts from a parade to mark the end of World War II. China's financial markets will be shut Thursday and Friday to commemorate the event.
As part of the preparations, factories around Beijing were told to shut down to ensure blue skies for the event. The factory closures, along with a huge blast in a chemical warehouse in the northern port of Tianjin last month, have distorted production and shipments.
The PBOC caused a stir in global markets by allowing the biggest yuan depreciation in two decades on Aug. 11, when it changed the exchange-rate mechanism to give markets a bigger role in setting the currency's level. To fend off depreciation, the central bank has intervened in the onshore market. The cut in banks' required-reserve ratios to 18 percent, announced on Aug. 25 along with the interest-rate cut, was linked to the need to provide liquidity after the yuan devaluation, the central bank said.
— With assistance by Xin Zhou
Before it's here, it's on the Bloomberg Terminal.
LEARN MORE