Americas Will Take Brunt of Any Oil Output Cuts When Iran Returns
Iran could raise oil output by 800,000 barrels in 2016

Brent oil seen trading at $45 to $65 a barrel next year
The Americas will take the brunt of any cuts in oil production as Iran increases output once international sanctions are lifted, according to a report by A.T. Kearney Inc.'s oil and gas consulting practice in Dubai.
North, South and Central American oil production could fall 1.1 million barrels a day by 2020 because of higher costs as Iran's output climbs, starting with an increase of 800,000 barrels a day next year, Chicago-based A.T. Kearney said in a report overnight Tuesday. Brent crude prices will range from $45 to $65 a barrel next year, according to the report. The international benchmark was trading at about $48 a barrel on Wednesday.
"With Iran coming back on, there's the prospect this is going to be a longer-term lower price than we've seen before," Richard Forrest, A.T. Kearney's lead partner for energy, said in an interview in Dubai before the report.
"If you look at where the production comes out, it's North American shale and it's offshore."
Iran is preparing to double output after international sanctions end, bringing as much as 1 million barrels a day of new supply into the market. In the U.S., crude production fell as New York oil prices dropped almost 50 percent in the past year on a glut. The U.S. government on Monday said June production fell to 9.3 million barrels a day, the lowest since January.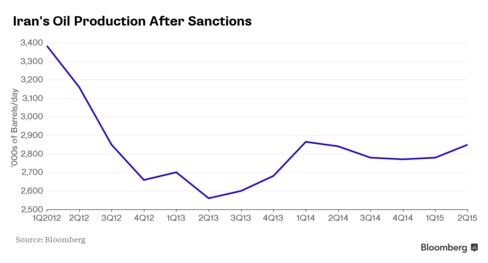 Foreign Investment
Iran could boost production by as much as 800,000 barrels a day in 2016, said Eduard Gracia, a principal at A.T. Kearney and co-author of the report. A.T. Kearney assumes Iran can boost output by an average of 6 percent a year from now until 2020 as long at it attracts foreign investment to help develop its fields. That pace would put Iran's output of crude and condensate at 4.955 million barrels a day in 2020, or an increase of about 1.5 million barrels from today, according to A.T. Kearney.
Iran and six global powers reached an agreement in July that would limit the Persian Gulf country's nuclear program in return for removing sanctions on its energy and financial industries. The restrictions cut its oil output from 3.1 million barrels a day in July 2012 to as low as 2.5 million barrels in
May 2013, according to data compiled by Bloomberg.
Profitable Fields


The projected drop in production in the Americas is equivalent to a 4 percent decline from 27.5 million barrels a day now, according to A.T. Kearney, which estimates Middle East production at 26.3 million barrels a day. Prices by the end of the decade will allow fields with production costs of $60 to $80 a barrel to produce at profitable levels, according to the study.
"While any oversupply has some impact on price, it's not going to be as dramatic as what we saw in the previous shifts," Forrest said, referring to the period when Brent fell from over $100 a barrel in July 2014 to less than half that six months later. That drop was due to concern about slowing global demand, he said.
Iran's state-run Islamic Republic News Agency has reported production could increase by 500,000 barrels a day within a week after sanctions end and by 1 million barrels a day within a month after that. Sanctions against Iran's oil industry should be lifted by late November, Oil Minister Bijan Namdar Zanganeh told state TV last month.
Iran may also increase petrochemical output, creating a potential for increased exports and lower prices, Gracia said. Iran has the world's biggest natural gas reserves, according to BP Plc data. "Petrochemicals is a way to get their gas exported in the form of another product," Gracia said.
Before it's here, it's on the Bloomberg Terminal.
LEARN MORE