Economists Are Split Over Whether the Fed Will Raise Rates in September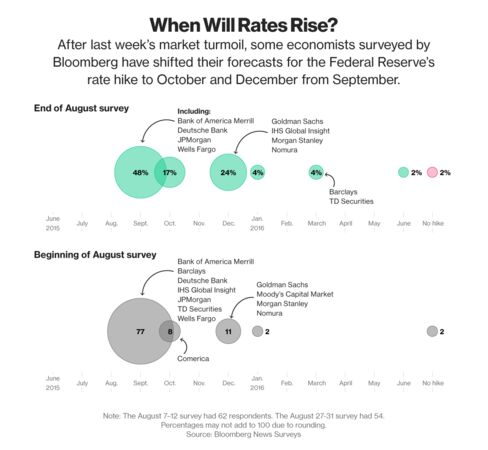 U.S. central bankers face their toughest policy call in years in September -- raise interest rates or wait a little longer. Whatever the decision, about half of economists will be wrong.
Forty-eight percent of 54 economists surveyed Aug. 27-31 by Bloomberg News see a September increase in the benchmark lending rate, the first move up since 2006. That's down from 77 percent in an Aug. 7-12 survey, though it is still double the 24 percent who say the first move will occur in December. Seventeen percent said October.
The polarized views came after turbulence in global financial markets in the past week cast doubt on when the Federal Reserve would raise rates. Policy makers have their own gaps to bridge: New York Fed President William C. Dudley said the volatility weakened the September liftoff case, while Fed Vice Chairman Stanley Fischer remained confident inflation would move higher.
"The odds of a September rate increase are below 50 percent but not by much," said Roberto Perli, a partner at Cornerstone Macro LLC in Washington and a former Fed board economist. At the same time, the Fed won't pay a high price if it decides to delay. "There isn't anything that screams inflation or that screams financial bubble ready to explode tomorrow morning," he said.
September supporters expect the U.S. economy has enough underlying momentum to shake off the recent global stock market correction spurred by a slowdown in China. The December backers argue there's no rush to tighten because inflation rates are too low, and the Fed risks slowing it further by raising rates and spooking nervous markets.
September Meeting
The policy-setting Federal Open Market Committee next meets Sept. 16-17, giving officials time to digest the August employment report due Sept. 4.
The December camp includes some influential Wall Street economists, including those at Morgan Stanley and Goldman Sachs Group Inc., who maintained their call despite Fischer's comments on Saturday that there is "good reason" to believe inflation will move higher.
"I didn't see much in the Fischer speech that we didn't know already," Goldman Sachs chief economist Jan Hatzius said in an e-mailed response to questions Monday. "Our view remains that September liftoff probability is low, though not zero."
Fischer's remarks at the Kansas City Fed's annual retreat in Jackson Hole, Wyoming, also contrasted with comments on Wednesday from Dudley that the case for moving in September was "less compelling," though he didn't take it completely off the table.
Yellen's Absence
Dudley and Fischer are the two most senior members of the FOMC after Chair Janet Yellen, who did not attend Jackson Hole this year and has not spoken publicly about monetary policy since July.
"It is going to be a difficult policy call" at the September FOMC, said Stephen Oliner, a resident scholar at the American Enterprise Institute in Washington who worked at the Fed Board in Washington for more than 25 years. "I think September or December are very likely."
A second survey question asked economists to assign a probability for liftoff in the months ahead. The responses showed a 35 percent probability for September, a 15 percent chance for October and a 25 percent probability for December. The first quarter of next year received a 10 percent chance.
Wait-and-See
"They might want to wait and see if this is an enduring and significant tightening of financial conditions or if it is a flash crash" that leaves little imprint on the economy, said Antulio Bomfim, senior managing director at Macroeconomic Advisers LLC, which forecasts slightly greater odds of a December tightening than September.
Since Fed officials met in July, the Standard & Poor's 500 Index is down 6.5 percent, the Bloomberg Commodity Index is down by more than 2 percent, while yields on 10-year Treasury notes have fallen to 2.22 percent from 2.29 percent.
Economists were split on how the rout in global stock and commodity markets would impact the Fed's decision next month.
More than 33 percent of 48 economists responding to the survey question said it won't influence the Fed's rate outlook, while about 31 percent said it would slow the pace of tightening. Economists ranked further strengthening in the dollar as the biggest policy risk in a September liftoff.
Stronger Dollar
The Bloomberg Dollar Spot Index, which tracks the performance of 10 global currencies versus the U.S. unit, is little changed since Fed officials last met in late July, and has risen almost 7 percent so far this year. A stronger dollar can hurt U.S. exports by making them more expensive overseas, while holding down inflation by dampening import prices.
Most economists surveyed expected inflation will remain below the Fed's 2 percent target for several more quarters. Some 42 percent said the Fed's preferred gauge of price pressures would not be at or above the goal for three consecutive months before 2017 or later.
"A lot hinges on continued stability in financial markets and a strong jobs report," said Mark Zandi, chief economist for Moody's Analytics Inc. "If markets don't swing wildly and we get more than 200,000 increase in payroll employment and another dip down in the unemployment rate, then I think the odds of a September rate hike go back above 50 percent."
Economists expect the report Friday will show job gains of 218,000 jobs in August, according to the median forecast, compared with an average gain so far this year of 211,000. Fischer said on Saturday that "we now await" the employment survey.
Before it's here, it's on the Bloomberg Terminal.
LEARN MORE