Alibaba Investors Backpedal as China Slowdown Saps Sales Growth
China's biggest online retailer falls for third straight month

Short interest on Alibaba shares climb to highest since April
The rush that drove Alibaba Group Holding Ltd. to a record U.S. initial public offering has turned into a retreat a year later as the Chinese online retailer is beset by the slowest economic growth in 25 years and a domestic stock selloff that has shaken global investor confidence.
The American depositary receipts, which surged as much as 75 percent from the initial listing price, tumbled 16 percent to $66.12 in August in their third straight monthly decline in New York. The drop pushed the ADRs below the debut price of $68 as short sellers boosted bearish bets on the stock to the highest since April.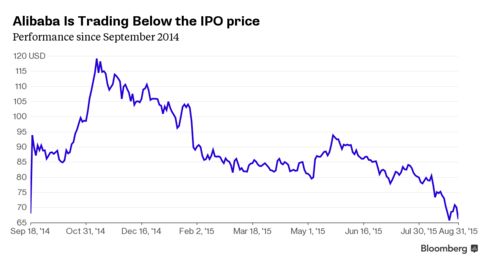 Chinese equities have been pressured amid mounting concern that government efforts to prop up the economy and financial markets will fail. Alibaba, the country's biggest e-commerce operator, has trailed analysts' revenue forecasts in two out of the past four quarters and reported the slowest sales increase in at least three years for the three months ended in June. The turnaround in investor sentiment has cut $65 billion from the company's market value since the initial public offering.
Investors were so optimistic about Alibaba's growth prospects at the IPO, "there wasn't really much room for any disappointment," Kevin Carter, founder of the Emerging Markets Internet & Ecommerce ETF, which invests in Alibaba, said by phone from San Francisco. "People had expected growth to accelerate and the pace slowed instead in the following quarters."
The slowing growth stems from e-commerce market saturation in China's larger, wealthier cities and the company's strategy of shifting to services over smartphones and tablets, which generate less revenue from ads compared with desktop computers. Analysts estimated in September that Alibaba's revenue would increase 33 percent for its fiscal 2016 ending in March, the projection is now cut to 29 percent, according to data compiled by Bloomberg.
Smaller Competitor
Alibaba is also facing competition from smaller online retailers in its home market. While the company's $1.3 trillion yuan ($204 billion) in total transaction value in its online marketplaces was more than six times that of JD.com Inc., China's second-biggest e-commerce company, in the first half of this year, its 37 percent growth rate was less than half of JD.com's.
Hedge funds have been part of the investor exodus from Alibaba as they cut their stock holdings in the company to about 3.1 percent as of the end of June from 5.2 percent in the third quarter of last year, according to data in public filings compiled by Bloomberg. They boosted their ownership in JD.com to 18 percent from 1.2 percent during the period.
Price swings in Chinese markets this month have rattled investors worldwide as they struggle to anticipate policy actions in the world's second-largest economy, which is forecast to grow 6.9 percent this year, the slowest pace in a quarter century.
Better Data
Investors will need to see signs of improvement in China's economy before the stock slump subsides because the company is so dependent on spending by Chinese consumers, said RJ Hottovy, an analyst at Morningstar Inc. in Chicago.

Short sales on Alibaba were 5.2 percent on Aug. 28, according to data compiled by Markit. A Bloomberg index of the most-traded Chinese ADRs slid 3.3 percent on Monday, taking its drop in August to 16 percent, the worst monthly slump since September 2011. The Deutsche X-trackers Harvest CSI 300 China A-Shares ETF, the biggest U.S.-traded fund tracking mainland stocks, slipped 19 percent last month, falling the most since the exchange-traded fund was created in 2013.
"What had happened is that people expected healthier growth in China's macro economy and had higher hopes for it given a lot of people considered Alibaba as a barometer as the health of the economy," RJ Hottovy said. "They are just worried things are slowing faster than anticipated."
Before it's here, it's on the Bloomberg Terminal.
LEARN MORE