Abenomics Pays Fat Dividends as Stocks Trounce Bonds for Yields
Dividends, share buybacks rose 76 percent last fiscal year

Topix ROE of 8.7 percent still trailing global average
Prime Minister Shinzo Abe's economic policies are strengthening the appeal of Japan's bruised stock market, as equities promise the best payouts relative to bonds in 2 1/2 years.
While global equity prices tumbled, Abe cajoled companies into boosting returns to shareholders. That combined to increase the estimated dividend yield of companies in the Nikkei 225 Stock Average to 1.41 percentage points more than the 10-year government note yield on Aug. 25, the widest gap since Dec. 12, 2012, data compiled by Bloomberg show. A similar spread in the U.S. is 0.02 percentage point.
Dividends and share buybacks surged 76 percent last fiscal year as Abe pushed to improve corporate governance and increase shareholder returns, according to Nomura Holdings Inc. Boosting rewards for investors could support the equities market, drawing more investment into profitable businesses and encouraging consumer spending, as the central bank's unprecedented stimulus keeps a lid on sovereign bond yields.
"Japanese companies are now paying more in dividends, which is powerful," said Raymond Chan, the chief investment officer for Asia Pacific at Allianz Global Investors. "If you look at the economic growth in Japan, there's hardly any growth. But companies in Japan seem to be changing course now, focusing more on shareholder returns."
Analysts are projecting a dividend yield of 1.7 percent in the next 12 months for the Nikkei, while the 10-year sovereign yield is forecast to rise to 0.73 percent at the end of 2016 from 0.38 percent on Monday.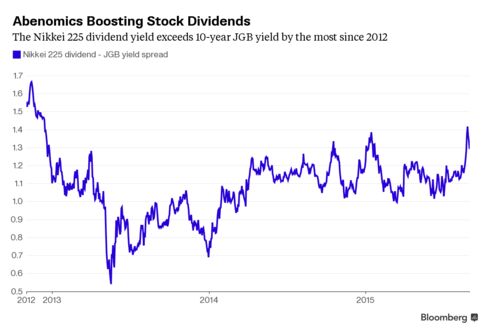 Abe has put shareholder returns at the center of policies for improving corporate performance, including a stewardship code to protect investor interests and the buying of well-behaved companies by state funds. The return on equity on Japan's Topix share gauge has risen to 8.7 percent from 3.3 percent at the end of 2011, still trailing the 11 percent ROE for the MSCI World Index.
Dividends per share for companies on the Nikkei 225 jumped 26 percent in 2014 from 2012, according to data compiled by Bloomberg. Analysts expect earnings per share for companies on the stock gauge to increase 16 percent in the next 12 months, separate data show.
"The attractive dividend yield will support the stock market," said Toshio Sumitani, a strategist at Tokai Tokyo Financial Holdings Inc. "Rising stock prices might boost consumption via the wealth effect."
Falling Spending
While Abe's policies have aided the share market, they've yet to translate to a positive cycle of rising corporate earnings spurring more consumer spending. Private consumption decreased 0.8 percent in the three months ended June 30, as the economy shrank after two quarters of expansion, government data showed last month.
Capital spending by Japanese companies rose 5.6 percent from a year earlier in the second quarter, slowing from the 7.3 percent increase in the first three months of 2015, Ministry of Finance data showed Tuesday.
"Japanese stockholders are mature enough to be able to come in and invest in stocks for the dividend," said David Gaud, a senior fund manager at Edmond de Rothschild Asset Management, whose parent oversees about $170 billion globally. "Rates should remain low and corporates should continue to deliver higher cash flows so the dividends should be more attractive."
SoftBank Group Corp., the Tokyo-based wireless carrier founded by billionaire Masayoshi Son, said last month it's buying back as much as 1.7 percent of its stock after first-quarter net income jumped to 213.4 billion yen ($1.8 billion). Panasonic Corp., an Osaka-based electronics manufacturer, said in August it plans to boost its first-half dividend to 10 yen per share from 8 yen a year earlier.
Nikkei Rout
The Nikkei 225 dropped the most in August since January 2014, losing 8.2 percent in a month to 18,890.48. It fell a further 3.8 percent on Tuesday. The gauge will rebound to 21,200 by year-end, according to the median forecast of analysts surveyed by Bloomberg.
Investors in the stock average have gained 5.1 percent this year when reinvested dividends are taken into account. Japan's bonds have lost 0.25 percent, according to a Bank of America Merrill Lynch index.
Japanese shares could attract more buying if dividend yields rise to 3.5 percent to 4 percent, in line with levels in China, Hong Kong and Taiwan, according to JPMorgan Asset Management.
"Japanese companies are well known for being very conservative on their dividend payout policy," said Tai Hui, the Hong Kong-based chief Asia market strategist at the fund manager, which oversees about $1.7 trillion. "However, if they genuinely change the dividend policy to be more in line with the rest of Asia, that to me is a huge opportunity."
Before it's here, it's on the Bloomberg Terminal.
LEARN MORE